The Patricelli Center for Social Entrepreneurship (PCSE) supports students and alumni interested in creating and sustaining programs, businesses, and organizations that advance the public good.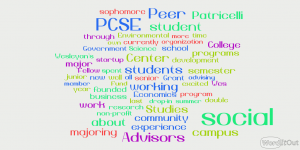 As part of this mission, we offer advising to students and student groups working on social entrepreneurship, civic engagement, and service projects. You can schedule a session with someone on our team to help you prepare for a meeting, develop a business plan, edit a grant draft, or just bounce ideas around to help you get started. 
There are two ways to schedule an advisor meeting.
1. To meet with Makaela or Jennifer just fill our your information at a time slot that works for you here. In the "Advisor" column, you will see the name location of the person you are meeting with. (Not to add confusion, but occasionally we also have alumni mentors on campus to meet with students. This semester's list and sign-up is here.)
2. To meet with a PCSE Peer Advisor, email them individually. Their names and email addresses are included below.
Any one of our advisors would be happy to meet with you, help you out, and connect you to other people working in your field. If you are looking for something specific, I've included some background information about our team below:
Makaela Kingsley '98 
Before coming to the Patricelli Center, Makaela worked at Wesleyan in University Relations for thirteen years.
– Well-connected to alumni working in many different spheres of social entrepreneurship and civic engagement
– Experience coordinating grant processes from the funder perspective and supporting students in the writing and editing steps.
– Pro at event organizing 
– Constantly thinking about and reading about social entrepreneurship 
– Great at creating and pushing media content 
Jennifer Roach '14
Jennifer is the co-founder and Program Coordinator for Summer of Solutions Hartford, a youth leadership development and urban farming non-profit. 
– Experienced in the early-stage brainstorming and planning phases of a startup 
– Good at writing and editing grants and fundraising letters, as well as coordinating crowd-funding campaigns 
– Practiced in writing curriculum and facilitating trainings 
The PCSE Peer Advisors are students with experience and connections in a wide variety of social impact and entrepreneurship fields. They support fellow undergrads, identify synergies among student groups, and promote a campus-wide culture of social entrepreneurship. You can schedule a meeting with a peer advisor by emailing them individually. 
Ani Acopian '16 – aacopian@wes
– Semi-finalist in Draper Women's Entrepreneurship Competition for her work on Line, a link-sharing start-up 
– Campus Coordinator for Digital Wesleyan 
– Photographer for Method Magazine
Tiffany Coons '18 – tcoons@wes
– Board member of SHOFCO 
– Co-founder Bold Futures, a Kenyan education nonprofit
– Coordinator for Wesleyan's Math and Science Scholars (WesMaSS) program
Mia Deng '17 – gdeng@wes
– Co-founding a tech-ed startup based in Shanghai
– Creative Consultant for Cardinal Pictures
– Co-instructor of Innovation Through Design Thinking student forum
Alex Garcia '17 – asgarcia@wes
– Founding member of WeStudee, an educational startup
– Co-founder of Kai Entrepreneurship Wesleyan
Lily Herman '16 — lkherman@wes
– Co-founder of college admissions organization The Prospect
– Involved in WSA, Let's Get Ready,and Wesleying
– Experienced writer for USA Today College, Her Campus,The Daily Muse, Forbes, TIME, and the Huffington Post.
Sophia Jennings – msjennings@wes
– Creative Director of Method Magazine
– Experienced writer for NYLON, MTV, and DAZED 
Claudia Kahindi '18 – ckahindi@wes
– Co-founder of KIU, an English education program in Kilifi County, Kenya
– Winner of the 2015 Davis Project for Peace Grant
– Vice president of the African Students Association
Mika Reyes – moreyes@wes
– Co-instructor of Innovation Through Design Thinking student forum
– Co-president of Kai Entrepreneurship 
– Experience working with many start-ups, including Kaya Collaborative, CAMP Philippines, MedGrocer, Gifts & Graces, and Vaavud
Yekaterina Sapozhnina '16 – ysapozhnina@wes
– Founded the Wesleyan Entrepreneurship Society
– Involved in Wesleyan Women in Business
– Co-taught an Economics for Entrepreneurship class 
Michael L. Smith '18 – mlsmith@wes
– College of Social Studies major and a Posse Scholar
– Developed leadership trainings for the Marines 
– Retail banking sales experience
Joshua Su '17 – jsu@wes
– Questbridge scholar 
– Works with Green Street Teaching and Learning Center
– Servant-Leader of Wesleyan Christian Fellowship (WesCF)
– Finance Associate of Kai Entrepreneurship