Alicia Strong was selected to receive an Enrichment Grant from the Patricelli Center for Social Entrepreneurship. With this grant, she participated in the International Society of Tropical Foresters' 2016 Conference. You can read Dara's reflection below, read past grantee reflections here, and visit the PCSE website to learn more about all of our grant programs.
---
Thanks to the help of PCSE and the E&ES department, four other students and I were able to attend the International Society of Tropical Foresters' 2016 Conference. The focus of the conference this year was looking at tropical forest conservation and policy through the lens of the UN's 17 Sustainable Development Goals (SDG). This resulted in panels addressing broad, overarching concepts such as improving education, fostering sustainable urban development, reducing gender inequalities, and addressing hunger and poverty issues in their relationship to forest management.  
Breakout Stream Sessions allowed for focused discussions of one or more of these goals based on a handful of quick presentations by academics whose work related to the topic at hand. It allowed for attendees from a wide range of professional backgrounds, from architects and urban developers to Ph.D students to government policy makers, to come together and use their different experiences to address the questions that arose from problems being encountered and solutions being offered. Other students attended sessions focused on sustainable cities and communities, zero hunger, and affordable and clean energy.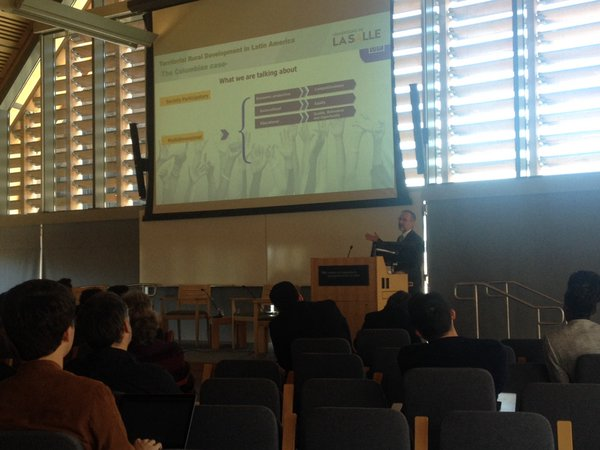 I personally gained a lot of insight from one of the talks I attended, centered around SDG 16: Peace, Justice, and Strong Institutions. The focus of the conversation quickly turned to bridging the gap between available scientific data on current changes in forest cover, both from direct human conversion and due to climate change, and usability of the data for tropical communities being most affected by it. We talked about how taking this type of data accessible—both physically, in terms of available technology, and linguistically, in terms of communicating the implications of data—can be an essential tool for local communities understanding the power they have to combat destructive policies and corruption. We also discussed the importance of providing people with the tools they need by bringing education AND infrastructural tools (such as providing the opportunities for research experience) to the people who need them, rather than trying to fix problems with our own education.
This and other talks were a unique opportunity to get a better idea of the complexity surrounding decisions on forest conservation policy. Here at Wesleyan we tend to isolate ourselves in learning about one aspect of it, like the science of climate change and forest conversion or cultures impacted by forest loss, but we often fail to realize that sustainability requires integration of this new knowledge on climate change with existing structures. If we remember the big picture, we can begin to learn how to increase public knowledge on forests and their importance to everyday life, both in Middletown and around the world.