Eunice Lee '19 attended the 2016 Net Impact Conference this November in Philadelphia. The following is her recap of the weekend:
With the help from PCSE, I attended the Net Impact Conference 2016 in Philadelphia, PA from November 3 to November 5.
Net Impact is a non-profit organization that connects students and professionals who are interested in using business skills to make social changes. They provide their members with the skills and experiences necessary to make the greatest impact.
I participated in this conference as part of the Net Impact's Healthy Food Fellowship Program, which supports undergraduate and graduate students in the U.S. to initiate campus projects that raise awareness on inequalities in access to healthy food.
Throughout the 3-day conference, I connected with various professionals, CEOs, graduate and undergraduate students.  Although I initially felt nervous to be surrounded by many professionals and MBA students, as the conference progressed, I felt more confident and comfortable in networking. In fact, since most of the participants were graduate students and professionals, I realized that this was a privilege to experience this great networking opportunity as a second-year undergraduate student.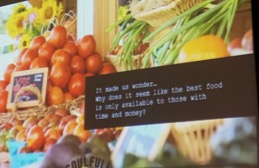 On the first day of the conference, I participated in an off-site tour to the
Campbell's Soup Head Quarter in Camden, NJ. We were given a tour of how their products are developed, from determining the current food trend to packaging the products. Our main purpose of this tour was to meet with the Soulfull Project team – a new public benefit company started by Campbell's employees who had left their roles to create this company.
The Soulfull Project is grounded on a mission to equalize access to wholesome and nourishing food. For every serving of their breakfast cereal, the Soulfull donates a serving of the same cereal to local food banks. Hearing their philosophy made me appreciate that there are entrepreneurs who truly believe in equal access to nutritious food and are willing to put their own jobs at stake to put their belief into practices.
Each day of the conference began and ended with amazing keynote speakers – to name a few, the co-founder of Black Lives Matter Alicia Garza, CEO of Etsy Chad Dickerson, and the special assistant of the President for My Brother Keeper at the White House Michael Smith.
Of all the great keynote speakers, the one that particularly stood out to me was Meika Hollender. She is the co-founder of Sustain Natural company – a first brand of all natural female-focused sexual wellness product.
She said that before developing her company, she had learned two important facts from the condom market in the U.S. First, that women are the main purchasers of condoms. Second, that most condoms include an ingredient that becomes toxic when in contact with human's skin. These two were the main reasons that motivated her to start Sustain Natural. I was very inspired by her approach to target women and her determination to launch this product as the means to empower women to take control of their sexual health, despite the shaming she had received from the public.
On the last day of the conference, the Healthy Food Fellow cohorts had our first gathering. I was able connect with other fellows who share the same passion in food justice and hear their campus project plans. I was also very fortunate to make a connection with our fellowship coordinator Rebecca Wolfe, who is also the senior director of Net Impact. Before her current position, she had various experiences in the arts and projects that fought poverty in underserved communities. Since arts and health inequality in underserved communities have always been my main interests, Rebecca was the perfect person to connect with. In fact, after the conference, I was able to have a phone call with Rebecca to hear about her career path and how her experience and passion in the arts have actually become the main vehicle to develop action projects to make social changes.
Overall, the Net Impact Conference was truly an inspiring experience that shifted my view of the forms of social changes and an empowering opportunity to realize the power we all possess to spark movements. I'm very excited to apply the skills and ideas that I gained at this conference for my Healthy Food Fellowship project in spring semester. 
I would like to give a special thank you to the Patricelli Center for Social Entrepreneurship (PCSE) for providing the financial assistance and for supporting my Healthy Food project.