In September 2018, the JCCP launched the Student Political Engagement Fund to support students to do political campaign work over Fall Break. Grantees were given up to $500 to do work locally, in their home communities, or beyond. Read other reflections here, and visit the JCCP website to learn more about our other programs.
---
Spencer Arnold '20
Major: English
Hometown: Wantage, NJ
Location of Political Action: Cromwell, Middletown, Wethersfield, CT
Campaigns: Laurel Steinhauser for State Representative and Matt Lesser for State Senate
Working to help get these progressive candidates elected has been some of the most fulfilling work of my life. It's easy to get cynical and disheartened (understandably) by the things happening on the federal level. Working locally, knocking doors and making phone calls, helped re-instill in me a sense of optimism that I desperately needed— an optimism for the future that is shared by both of these amazing people. With few exceptions, the people I met and talked to were willing to engage with me and willing to find common ground. And this increase in optimism worked by ways. I had multiple people tell me that taking time to make them feel valued as people and as voters re-engaged them in a politics they thought had left them behind. I gained a lot from all the work I did (over 200 doors knocked and many more phone calls!), but the most valuable was feeling like I had a real voice in what I want the future to look like.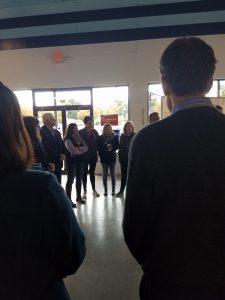 My advice for anyone who is interested in getting politically involved is to start by finding someone you genuinely believe in. Make sure you meet them in person. The conversations I've had with Laurel especially have made the biggest difference in the way I talk about her and try to sway voters to seeing her the same way I do. By understanding Matt and Laurel as people, not just a list of policies they support, I've gained a deeper appreciation and understanding of a flawed political system, and how people like them can help fix it. As both of them will say, politics is about people, and learning about the people you're supporting is incredibly important. It's about places, too. I've learned so much about Middletown and the surrounding area in these past weeks working on the campaign, and have come to understand the people who live here in a whole new way. At the end of the day, if you want to get involved, just put yourself out there. It can be intimidating at first, but the people you'll meet and the change you're working for makes it all worth it.