Don't Hate…Communicate! led by Dr. David Campt (as seen on Trevor Noah).
This is an interactive experience designed to help people better understand how to navigate many of the challenges of modern day political polarization. With the election approaching and polarization increasing, many people do not know how to have a civil conversation with others who might disagree with them (as demonstrated in Tuesday's candidate 'debate'). Participants will learn about what they can personally do within conversations to turn moments of difficulty into moments of dialogue.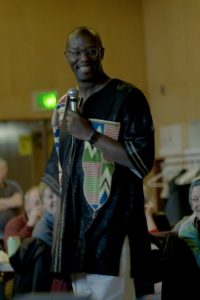 Through the course of his 25 year career as a featured presenter, Dr. David Campt (@thedialogueguy) has helped groups focus on a variety of topics including strategic planning, conflict resolution, creating more inclusive decision-making, leadership succession, cultural competence, and many others. His clients have varied widely and have included: the US military, The White House, large corporations, international organizations, foundations, governments, universities, national associations, and non-profit groups.
David is considered a national expert in the areas of inclusion and equity, stakeholder engagement, and conflict resolution and dialogue. His insights about the keys to more effective institutions and communities have been sought by small executive boards consisting of of fewer than a dozen members to large-scale summits involving thousands of people. In addition to speaking on these topics to live audiences, he also has numerous media appearances offering an expert perspective. He has appeared on national media outlets as well as local television, radio, and print media all across the United States.
Thursday, October 8, 6:30-8:00 pm
Free and open to the public
Space is limited, preregister here: https://www.surveymonkey.com/r/DontHateCommunicate
This event is cosponsored by Wesleyan University's Office for Equity & Inclusion, E2020, The Jewett Center for Community Partnerships, Department of Government and the Department of American Studies.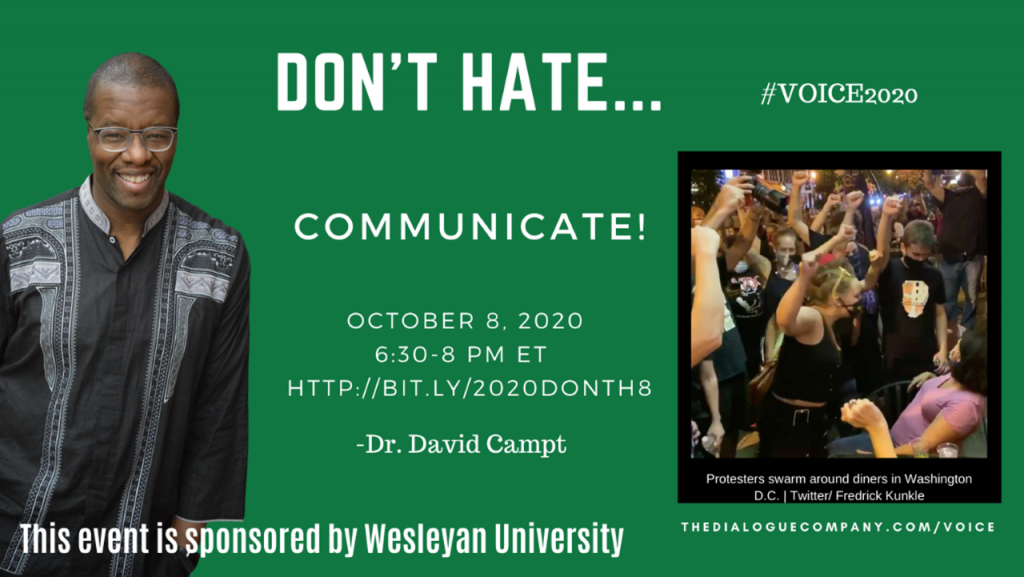 The E2020 Speaker Series brings together community organizers, activists, and changemakers to talk about the 2020 election and movement-building. See the whole lineup here: http://engageduniversity.blogs.wesleyan.edu/2020/08/31/engage-2020-speaker-series/
The E2020 Speaker Series is supported by generous contributions from the Wintman Family Lecture Series Fund.