Each year, the Patricelli Center for Social Entrepreneurship awards $5,000 seed grants to fund the launch or early-stage growth of a project, program, or venture. Long Lane Farm was one of this year's winners.
Since its founding in 2003, Long Lane Farm has worked towards a model of food sovereignty, in which all people not only have access to affordable, healthy meals, but also have a say in how their food is produced. Following the disruptions of the COVID-19 pandemic to both the Farm and our communities, the LLF team will look ahead, strengthen and expand the farm's role in the community, and shore up our strategies for the future. The Patricelli Center Seed Grant will help make this growth possible.
This is the first of three reports from the Long Lane Farm team. It was submitted by Elam Grekin '22.
---
While food insecurity has always been a pressing issue the effects of the COVID-19 pandemic have exacerbated it greatly. A rapidly shifting job market creating mass unemployment coupled with and worsened by the death of a number of small businesses and a failure of government to advance any meaningful form of worker protections and fair pay regulations have left a huge number of people without work or without work that pays a living wage. In addition, restrictions on gatherings have hindered efforts of community organizing that are crucial to fighting food insecurity. Even as we have seen a rise in mutual aid networks over the past 15 months we have not seen a corresponding increase in long term solutions to address food insecurity. Recognizing that the conditions of starvation wages and food apartheid under which many low income communities and particularly communities of color exist are a policy choice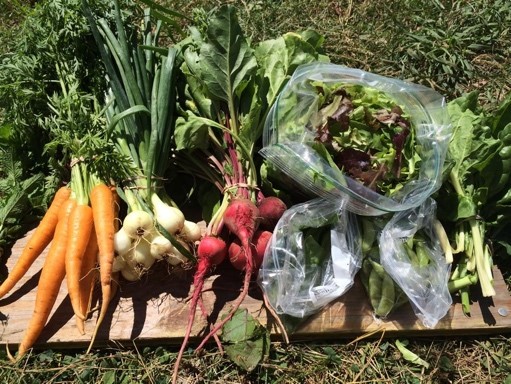 that is supported by the federal, state, and local governments, we believe that any sustainable solution to these issues must come from hyperlocal systems of food production that support models of food sovereignty.
"Food sovereignty is the right of peoples to healthy and culturally appropriate food produced through ecologically sound and sustainable methods, and their right to define their own food and agriculture systems. It puts the aspirations and needs of those who produce, distribute and consume food at the heart of food systems and policies rather than the demands of markets and corporations."

– Declaration of Nyéléni, the first global forum on food sovereignty, Mali, 2007
Unlike a standard entrepreneurial venture in which the ultimate goal is to eliminate competition, we are striving to promote a network of small farms and community organizations that work together to provide hyperlocal solutions to food insecurity and that ultimately can eliminate the need for corporate food production and distribution entirely. I want to take a moment here to pause and acknowledge that this is not a new idea and that much of the work we are doing is already being done by a number of organizations, many of which are spearheaded by women of color and indigenous people. Our goal at Long Lane is not to reinvent or claim credit for these models, but rather to use the position of privilege granted to us by our existence within the institution of Wesleyan to uplift and contribute to the efforts of members of the community that have been deeply invested in this work for longer than any of us have been at this school. While Long Lane Farm exists in a complicated space that is at once part of and removed from the Middletown community, we are invested in being a part of the efforts of Middletown residents to create a more just, nourishing, and sustainable food system.
The money from the Patricelli grant has allowed us to hire additional workers to help during the summer months, freeing up time for us to work on growing our partnership with local organizations working towards food sovereignty as well as members of the Middletown community. While Wesleyan COVID policies still prevent us from inviting community members to the farm, we look forward to hosting community gatherings, educational events, and other programing on the farm once those restrictions loosen. We also hope to be able to foster more robust relationships with local initiatives to fight food insecurity in the coming months. Finally, as our summer harvests get into full swing we look forward to sharing healthy, local, and sustainable food with our neighbors through donations to local organizations, sales at our farm stand and the North End farmers market, and community harvests.
We have been busy training the newest crop of summer farmers these past few weeks, and they are now running the farm. This is a hectic time of year, as we tear out our overwintered crops and plant new life. We've got all of our brassicas (cabbages, kale, kohlrabi…) in the ground, as well as root vegetables, onions, and garlic. We're now working on getting nightshades (tomatoes, peppers, eggplants) in, and are also preparing for cucurbits (squash, melons, cucumbers, etc.). It's already shaping up to be a productive season — we've harvested many pounds of leafy greens to donate to the St. Vincent DePaul Soup Kitchen and the community fridge. We also have a bumper crop of radishes that we sold at our first farm stand of the season on Wednesday — hopefully the first of many. Keep an eye out too for the first Middletown Farmer's Market of the season, which will take place on June 18th on the South Green of Main St. We are looking forward to welcoming community members back to the farm with more events soon!
How you can get involved:
If you live or work in or around Middletown we would love to get to know you and work with you to create a more just and sustainable food system! We will be posting updates throughout the summer on our Instagram and Facebook (@longlanefarm), and mailing list (email weslonglane@gmail.com and ask to be added) about events, farmers market and farm stand times, and other ways to get involved. If you would like to get involved more directly or in a different way feel free to email us at weslonglanefarm@gmail.com or egrekin@wesleyan.edu. If you are part of another organization working on these issues or have connections to local businesses, non-profits, community groups, or other organizations interested in working to promote hyperlocal and sustainable agriculture we would love to connect with you! Feel free to email us and we will be in touch. Finally, if you don't reside in the Middletown area and are looking to contribute there are a number of community led organizations such as Middletown Mutual Aid that are always accepting donations, however we would also encourage you to look into similar organizations in your area doing this work and support their efforts as well!