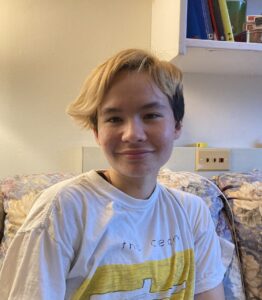 Hello! My name is Alec Black (he/him/his) and I'm excited to be starting as your new Communications Intern for the JCCP! I'm a current junior double majoring in Government and Studio Art and outside of classes you can usually find me on Foss or DTD tossing with Throw Culture (Wesleyan University's only all-gender ultimate frisbee team), or working at Red and Black Cafe.
I was very lucky to come to Wesleyan the semester the Engage 2020 Initiative was first getting started, and was able to find the Albritton Center and JCCP very quickly! After the staff walked me through the E2020 application process, I was able to receive funding and credit for political work for three separate semesters, sparking my interest in the field and allowing me to learn things I never could in the classroom. While Wesleyan is a tight-knit community, at times it can feel like the student body is completely separate from the town we reside in, and I appreciate the support the JCCP and Albritton center provide for students looking to be civically engaged. Working for the International Refugee Assistance Project (a branch of the Wesleyan Refugee Project primarily concerned with compiling legal resources for newly settled refugees,) has been a great experience, and I'm also excited to get involved with the Wesleyan North End Action Team!
As a Communications Intern, I'm excited to provide information and updates about the JCCP for the wider Wesleyan and Middletown community, as well as updates on projects in the works! I'm particularly interested in helping with the Reimagining Justice initiative, and am looking forward to what I'll learn from this position.