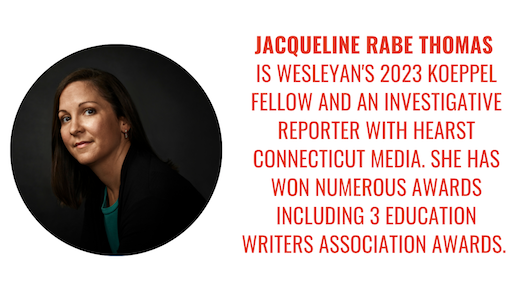 The Allbritton Center is excited to introduce our new 2023 Koeppel Fellow, Jacqueline Rabe Thomas! She is an investigative reporter with Hearst Connecticut Media. She has also been an investigative reporter with Connecticut Public's Accountability Project, a housing and education reporter with The Connecticut Mirror, and a fellow with ProPublica. Her reporting has led to home healthcare workers getting reimbursed for wages illegally taken from them, undocumented immigrants being able to access outpatient dialysis treatment and no longer having to live in the hospital to receive care, and the top brass at the state's university system being fired. 
She has won a national Sigma Delta Chi award from the Society of Professional Journalists for fact-checking, a Public Media Journalists Association award for her special education coverage, three investigative reporting awards from the Education Writers Association for her coverage on housing and education disparities, and a Theodore Driscoll Award for Investigative Reporting from the Connecticut Society for Professional Journalists for her investigation into the health care provided to those incarcerated.
She has a masters in public policy from Trinity College and a journalism degree from Bowling Green State University. She has taught classes at UConn's School of Business. Currently, Jacqueline is teaching the course CSPL 299 The Rest of the Story in which she explores topics in investigative journalism, including the history, the law, accessing public documents, research, narrative writing, and more.
Join Jacqueline Rabe Thomas at her upcoming event, What Does it Take to be an Investigative Journalist? Open to faculty, staff, and students. February 13, 12-1pm in Usdan 108. Pizza will be provided.
For faculty and staff, Jacqueline will be hosting a writing workshop for faculty about writing for a public audience. March 9, 12-1pm, Usdan 108. See the poster below.