Map Unavailable
Date/Time
Date(s) - 04/18/2016
4:30 pm - 5:30 pm
Categories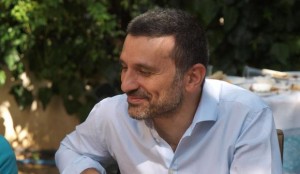 Writers have been asked (at times even forced, in a way) to take sides on the Greek crisis. That is, to express opinion on the central question of who is to blame or to respond creatively to the relevant agonies. One question to raise is what has come out of this and a second one is what could come out of this, i.e. how justified is the claim that those who write literature are in any way better equipped  to comment on contemporary matters. Examples are drawn both from famous instances of the stance taken by politically engaged writers, as well as the author's own works.
Konstantinos Poulis will be presenting a talk titled Literature and Writers in Times of Crisis at 4:30pm in Downey room 113.
Bio: Konstantinos Poulis has published a collection of short stories, Thermostat,  (nominated for the National First Book Award), theatre plays, Don Juan,  and  a collection of political essays on the Greek crisis, Tax the rag pickers! He has a PhD in Classics and regularly comments on Greek politics.
Articles on the Greek crisis in English:
Greece: a creditor's dream come true, Aspenia, international analysis and commentary in Italian and English
Half-heartedly, thepressproject.gr
Greece: chronicle of an impasse foretold Aspenia, international analysis and commentary in Italian and English
The line that separates defeat from disgrace, Analyze Greece, News and Left Politics
Force, fraud, and the jeering indignant in Greece, thepressproject.gr
Torture in Greece, openDemocracy, free thinking for the world
Online TV show: