Date/Time
Date(s) - 09/16/2015
5:30 pm
Location
Career Center
Categories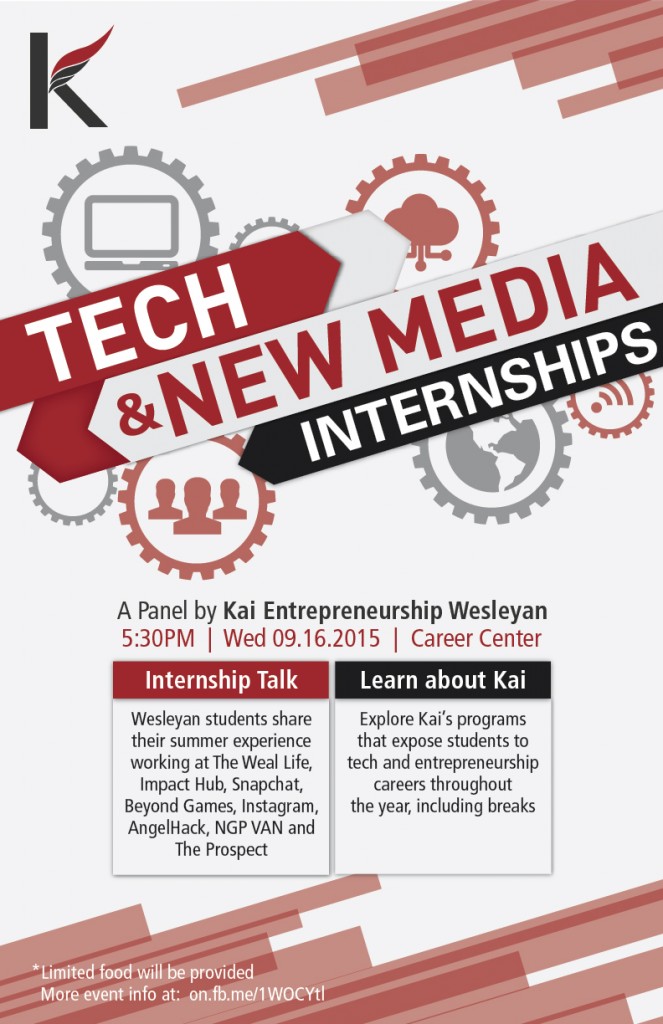 Join Kai Entrepreneurship Wesleyan for the Tech & New Media Internships Panel!
Learn about Kai Entrepreneurship's programs that expose students to tech and entrepreneurship careers throughout the year, and hear first-hand from current Wesleyan students about their summer internships in the tech and new media industry. 
Kai Entrepreneurship is a student-run 501c3 on campus that creates and promotes programming to highlight and support openness, inclusion, and and community in tech and social entrepreneurship. 
Our focus on these principles springs from the troubling lack of diversity in the current entrepreneurship world and the technology industry overall, and we see college as an ideal time to encourage people of all interests and backgrounds to get involved. 

The sound "kai" has several meanings in Asian languages. In Chinese it makes up the word Kaishi which means "to start," in Japanese it makes up the phrase "kaizen" which is a business philosophy stressing continual improvement, and in Thai it means "egg" and reflects new beginnings. Above all else, it's just an awesome sounding name. 
Kai Welcome Presentation: 
Alex Garcia '17 (The Weal Life and Impact Hub Bay Area), will be giving the welcome presentation followed by a panel of 5 student panelists, moderated by Lily Herman '16 (Co-Founder of The Prospect): 
Ani Acopian (Snapchat) '16
Denise Francisco (Beyond Games) '16
Jackson Barnett (Instagram) '18
Pate Sanders (AngelHack) '17 
Trisha Arora (NGP VAN) '16
Food will be available at the start of the panel.