In June, Wesleyan's Patricelli Center for Social Entrepreneurship announced that it would award two tickets to the Social Capital Markets conference (SOCAP) to young alumni with an interest in how money can be leveraged to create social change. It was no surprise that those who applied were talented, motivated social changemakers working in a variety of impact fields and geographic regions. We are pleased to introduce you to our winners, Hannah Lewis '13 and Oladoyin Oladapo '14.
Hannah Lewis '13, Program Director, Building Dignity
During Joy Anderson's class on money and social change at Wesleyan and her internship at the gender-lens investing initiative at Criterion Institute, Hannah Lewis '13 became inspired by the possibilities for social good at the intersections of the nonprofit and for-profit sectors. For the past 11 months, she has been living and working in Lima, Peru, serving as the Program Director at the nonprofit Building Dignity. She directs Building Dignity's programs to promote education, leadership, and development in marginalized communities in Lima. Hannah says, "Through this experience, I have learned so much about the daily struggles that people face while living in poverty. Most of the community members I collaborate with are outside of the formal economic market—they make a living selling fruit at the open market, knitting clothes for neighbors, or driving an unregulated rickshaw taxi. Yet, so many of the people I know have an entrepreneurial spirit and a strong desire for a better life. However, without financial access, they remain immobile. One thing is clear to me: these people need economic inclusion. They need fair access to capital and markets. At SOCAP14, I hope to learn more about the potential of financial inclusion, impact investing, and place-based innovation." In September, Hannah is moving to San Francisco for a New Sector RISE (Residency in Social Enterprise) fellowship. She aspires to a career focused on alleviating poverty, promoting financial inclusion, and improving people's lives in developing countries.
Oladoyin Oladapo '14, Chief Operations Officer, JooMah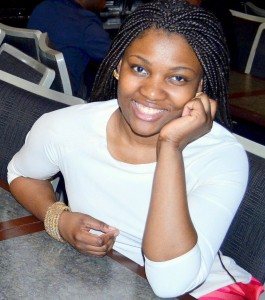 At Wesleyan, Oladoyin Oladapo '14 served as President of the Senior Class and the African Student Association, and she collaborated with fellow students on multiple social ventures. She is an unstoppable entrepreneur, recognized by the Harambe Entrepreneur Alliance, a network of young African entrepreneurs from leading universities worldwide. Since graduation, Oladoyin has been serving as COO of the Wesleyan-founded venture JooMah, and online employment platform designed to identify and cultivate talent and promote economic growth across Africa. On the side, she is also preparing to launch Idunnu Studios, a toy company that creates culturally relevant and pedagogical toys. At SOCAP, Oladoyin aims to connect with like-minded entrepreneurs and leaders. "I have read almost many of the profiles and highlights of past SOCAP attendees and conferences and I am greatly impressed and moved. The problems being tackled are no small feat and it motivates me to see young people like me on the job. I know the chance to meet some of them would be once in a lifetime and I plan to take advantage of it." She also looks forward to "engaging with foundations, governments, and other institutions — the other half of the social impact equation."