Part of the mission of Wesleyan is to provide "an education in the liberal arts that is characterized by boldness, rigor, and practical idealism." Those attributes come to life at the Patricelli Center, where students and alumni find real-world applications for their idealism, hone their skills as entrepreneurs and intrapreneurs, and join the legions of trailblazing changemakers who have come of age at Wesleyan.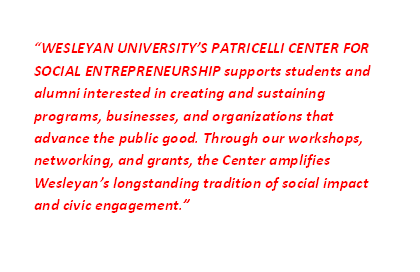 Established in May 2011 through a gift from the Robert '61 and Margaret Patricelli Family Foundation, the Patricelli Center for Social Entrepreneurship is now entering its fourth year. Demand for services continues to increase steadily, and the Center has become a hub of social impact and entrepreneurship activity on campus. It has engaged scores of alumni with the University, with students, and with each other. Wesleyan's "changemaker mafia" is collaborating in unprecedented ways, supporting each other and amplifying their collective impact worldwide.
This year, the PCSE offered 27 workshops and events featuring 44 alumni and 13 students, awarded 23 grants to 45 applicants, provided 163 advising sessions and dozens of professional connections to 93 students and alumni (75% of whom returned after their first visit), and added 62 alumni volunteers to our growing network.
2013/2014 highlights include:
Soon after the 2012-2013 PCSE Seed Grant winners submitted their final reports, three new $5,000 Seed Grants were awarded to fund the launch or early-stage growth of a Wesleyan-connected project, program, or venture. For the first time, this grant was administered in a competition format, and winners were selected from a strong pool of six finalists who submitted written business plans and participated in a public pitch session with a panel of expert judges. Applicants were assessed on their project design, leadership qualities, and potential for social impact.

Joaquin Benares '15 will use his seed grant to grow his social venture, Boundless Updated Knowledge Offline (BUKO). BUKO aims to bring the video lectures, e-textbooks, and other online education tools to rural Filipino schools "on the wrong side of the digital divide."
JooMah – led by Kwaku Akoi '14, Oladoyin Oladapo '14, Max Dietz '16, Michael Yee '14 and three other students – is a new web and SMS platform that will connect job-seekers in Sub-Saharan Africa with targeted employment opportunities nearest them.
Tavo True-Alcala '15 and Brent Packer '15 will launch Wishing Well, a project inspired by the 2013 Wesleyan Sustainability contest that will help universities design portable water stations, reducing use of disposable bottles and furthering the university's commitment to sustainable practices.
Six students received summer experience grants from the PCSE, including the first Norman E. Priebatsch Internship Grant. Like all seed, internship, and enrichment grantees, these students will report on their experiences via ENGAGE blog posts.

Geneva Jonathan '15 is doing mental health work in India, where stigma and cultural barriers to care often prevent proper treatment.
Theodora Messalas '15 is working with a food pantry, soup kitchen, and women's homeless shelter in Manhattan, exploring ways to implement successful social services in which the needs and preferences of the end-users are paramount.
Dara Mysliwiec '16 is addressing food sovereignty in Lamas, Peru, using sustainable – and previously lost – indigenous farming techniques.
Keren Reichler '16 has a fellowship with Urban Adamah farm and community center in Berkeley, California, where she is addressing the issue of urban food access and social justice through urban organic farming, community organizing, and leadership development.
Jared Geilich '15 is combining his interests in computer science and emerging technology, psychology and human behavior, and cultural trends at FootSteps Marketing in Colorado, a small company that specializes in website design and digital marketing services.
Aaron Kalischer-Coggins '15, a film major and experienced documentarian with a passion for leveraging film to educate and inspire people on environmental issues, is performing a research internship at Ark Media, based in New York City.
Jennifer Roach '14 received the prestigious Davis Projects for Peace grant for her work with Summer of Solutions Hartford, a three-year old urban garden and youth leadership development non-profit with seven locations across Hartford.
Workshops and events received an average overall rating of 8.75 out of 10.

Top reviews went to Post-Wes Journeys in (Social) Entrepreneurship featuring Beezer Clarkson '94, Kagiso Bond '01, and Erica Gersowitz '01; Business Perspectives on Environmental Sustainability with Kira (Markiewicz) Fabrizio '97; and Think About Data Before It's Too Late! with Wendy (Bauman) Jeffries '01 and Liz (Collins) Bliss '01.
September's WesHack 2.0 event drew nearly 100 students for a series of intro tech workshops and a 30-hour hackathon, and March's events co-sponsored with WAPPS in NYC and Boston drew well over 100 alumni to hear from 12 alumni.
Event feedback included: "super insightful and inspiring"; "how-to's for non-profits are great and needed on this campus"; "the event was exactly what I wanted it to be. It allowed me to connect with alumni in a small group setting, share my own ideas, and hear about the stories of alums carving their own paths."
The Patricelli Center collaborated with three academic courses in 2013/2014: Money and Social Change, Entrepreneurship in Education, and Entrepreneurship Studies 101.
More than 50 constituents now have 24/7 ID-card access to the PCSE Board Room. This space is a hub of social innovation on campus, used for idea and venture incubation, service-learning course TA sessions, peer advising, and more.
The Patricelli Center for Social Entrepreneurship continues to rely on these key partnerships:
The PCSE, Center for Community Partnerships (CCP), and Allbritton Center for the Study of Public Life (ACSPL), collaborate as a hub of civic engagement theory, research, experience, and practice. We are all housed together in the Allbritton Center in the heart of campus (formerly Davenport Campus Center).
The Career Center's job and internship databases, resume service, and workshops complement PCSE programs.
The Wesleyan Entrepreneurship Society (WES2), Center for Prison Education, MINDS Foundation, SHOFCO, Long Lane Farm, and other impact-driven and entrepreneurial groups on campus offer experiential learning opportunities for students.
The PCSE Advisory Board, Peer Advisors, and alumni network provide invaluable advice and support for the Center. Special thanks go out to the 110 alumni, parents, students, faculty, staff, and friends who served as presenters, advisory board, judges, and peer advisors in 2013-2014.
More than 1,200 members of Wesleyan Alumni in Philanthropy and Public Service (WAPPS) promote service and social impact among the alumni community, and they co-host events with the Patricelli Center. Digital Wesleyan engages students and alumni interested in tech and startups.
Social entrepreneurship colleagues from other institutions come together through AshokaU to share ideas and resources.
In 2014/2015, the PCSE will seek to engage a wider range and greater number of students and alumni with an interest in social impact or entrepreneurship. With the belief that Wesleyan people can contribute measurably to the impact of existing organizations, we will explore ways to better encourage and fund intrapreneurship. Lastly, we will expand partnerships with the Allbritton Center for the Study of Public Life, the Wesleyan Career Center, and other collaborators to leverage resources and increase support for students and alumni.
To learn more or find out how you can support the Patricelli Center for Social Entrepreneurship, visit www.wesleyan.edu/patricelli or contact mjkingsley@wesleyan.edu.