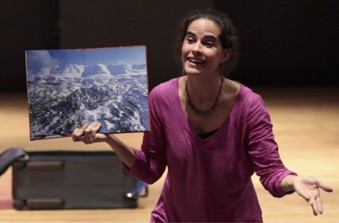 Several talented artists, musicians, and speakers have visited Wesleyan this year as a part of Muslim Women's Voices, a project to increase awareness, knowledge and understanding of Muslim cultures and to celebrate the complexity of Muslim women today. The Center for the Arts has commissioned artist Leila Buck to create a theatrical piece inspired by Muslim women, which will have a work-in-progress showing at Wesleyan on April 17 and 18, 2015.
The CFA seeks interns and collaborators to assist Buck, a Lebanese-American writer, performer, and teaching artists of Muslim and Christian heritage who has lived, performed, taught and traveled throughout Europe, the U.S. and the Arab world.
Intern responsibilities:
Research and reporting on assigned topics, possibly including but not limited to:

Muslim and Western feminism
Marriage and motherhood traditions, practices and history in Muslim and American/Western cultures.
Muslim, Christian and Jewish religious texts, teachings and cultural practices specific to expectations of women
Sexual politics on U.S. campuses
The history of sexual politics and norms at Wesleyan
Representations of Muslim women in the West and specifically in the U.S.
Poetry, storytelling, music, and dance for and by women in Muslim cultures
Current representations of Islam in America and Muslim men
World events/politics/economics relating to/intersecting with the above

Conducting, and possibly transcribing, dialogues and conversations with Muslim women, and possibly some Muslim men
Attendance of team meetings (approximately weekly) to report on research findings and personal responses to the research conducted
Attendance at and participation in open studios/rehearsals/feedback sessions with Leila (at least once a month).
Intern qualifications:
Experience with research
Good communication skills
Be personable, resourceful and detail-oriented.
Fluency in spoken Arabic, excellent typing skills, and/or background in subject matter a plus.
Dates: January 20 – April 24, 2015
Reports to: Erinn Roos-Brown, Campus and Community Engagement Manager
Hours/Pay: 10 hrs/week $9.15/hour
For students with limited time or who are not able to commit fully to the project through April, we cannot fund, but welcome, participation such as:
Being dialogue partners on the subjects above – particularly if you are Muslim or coming from a Muslim background.
Connecting our team to dialogue partners and/or research
Attending and participating in open studios/rehearsals where Leila and her team will share parts of the piece in development and invite feedback from the community.
Collaborating on creative elements of the piece, including but not limited to:

Sound design:  splicing quotes and pre-recorded audio, montages, etc. for rehearsal and possibly performance
Creating/editing video/photographic backgrounds, clips and montages for use in rehearsal and possibly performance
Dramaturgy/editing
Performance:  Reading text, portraying characters, moving or singing in rehearsal and/or performance
 Choreography:  Working with Leila and others on the movement elements of the piece
 Visual design – lighting/space for rehearsal and possibly performance

Raising awareness of the project on campus through student groups and informal gatherings/conversations
Other suggestions of intersections with the project to be explored
Students interested in either paid internships or other forms of collaboration should send a cover letter and if possible a bio or resume to Erinn Roos-Brown at eroosbrown@wesleyan.edu by 9am on Thursday January 15, 2015. Letters should include:
A description of your interest in/connection to the subject matter/creative process
Any particular skills you feel would benefit the project
An outline of your class schedule and outside commitments through April 25