Kehan Zhou and Julian Compagni Portis were selected to receive an Enrichment Grant from the Patricelli Center for Social Entrepreneurship to attend Startup Weekend New Haven in November. You can read their story below, and visit the PCSE website to learn more about our grant programs.
**************************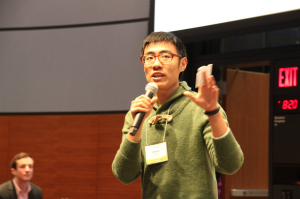 Startup Weekend New Haven was a really great opportunity for my business partner, Julian, and I to learn about entrepreneurship from experts in many different fields. Startup weekend is a weekend long workshop that allows people to pitch their ideas, form teams, and deliver a minimal viable product at the end of the weekend. In the process, experts in various fields offer help and constructive criticism.
Startup Weekend offered an opportunity for us to interact with people who are passionate about starting a company. During the weekend, Julian and I met many interesting people from graphic designers to students at Yale business school. This exposure allowed us to receive feedbacks on our startup ideas from people with diverse backgrounds. Everyone brought in interesting perspectives that made the weekend a true meeting of the minds.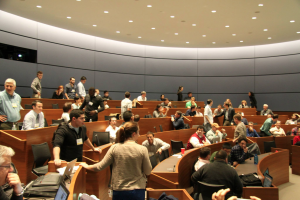 With the help from the coaches, Julian and I worked very hard on our startup idea. In the span of 54 hours, we conducted a market survey to validate our business idea, developed a solid business plan with cash flow models, and designed a concise flat-design website. At the end of the weekend, we presented out product and it was very well-received by the judges as well as professionals in venture capitals.
As a conclusion, we are very glad that we received a grant from the Patricelli center which allowed us to attend this event. From my personal experience, I strongly recommend anyone with a passion for startups or ideas they want to develop further to participate in future Startup Weekends. Startup Weekend not only gives people an opportunity to put their entrepreneurial ideas to the test, it gives participants a crash course in the necessary skills to transform an idea into a real business.