The Allbritton Center for the Study of Public life supports engaged scholarship on and off the Wesleyan campus. We define "Engaged Scholarship" as partnerships of university knowledge and resources with those of the public and private sectors to enrich scholarship, research, creative activity, and public knowledge; enhance curriculum, teaching and learning; prepare educated, engaged citizens; strengthen democratic values and civic responsibility; address and help solve critical social problems; and contribute to the public. A compendium of engaged scholarship and service by Wesleyan faculty may be found here.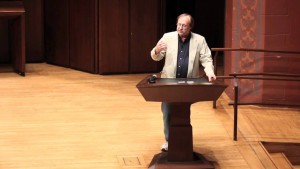 Professor John Finn teaches in the Department of Government at Wesleyan. He is the author of three books, including American Constitutional Law: Essays, Cases, and Comparative Notes and Constitutions in Crisis: Political Violence and the Rule of Law. Just last year, he published Peopling the Constitution, which is reviewed below: 
"A compelling account of the patterns of though and action that are necessary to sustain a vibrant constitutional culture. It is well argued, engagingly written, and never less than fair to competing theoretical perspectives. Even scholars who favor a robust judiciary, or who doubt the ability of average citizens to fulfill the demanding role Finn assigns them, will be forced to reckon with this book's deeply troubling conclusions."

—Perspectives on Politics

"The essay form of the book is innovative and reflective of its subject, inviting a less formal (but not informal) tone that raises questions and opens up the mind to consideration of civic possibilities and all of the work that it does to sustain a civic constitutional order."

—Tulsa Law Review
You can listen to a presentation by Professor Finn titled "Poor Joshua: Private Space & the Constitution," which he gave as part of the Wesleyan Thinks Big series. In the talk, Professor Finn uses the case of Joshua DeShaney to discuss how the Constitution can and cannot protect the individual from private actors.