Campus is very quiet over the summer, with just the maneuverings of summer classes and the occasional burst of noise from a middle school summer camp to keep us company. I started my position as the Civic Engagement Fellow in June, at the beginning of the calmest time of year on campus. After a few months of pattering around in a mostly empty Allbritton, I was so very ready for students to get back to campus! 
These first few weeks have been so packed full and busy with orientation events and student group trainings that I hadn't taken a moment to appreciate all the new energy and movement on campus! But last week, I got two great opportunities to get together with some wonderful students. 
On Monday, the Office of Community Service threw a thank-you ice cream party for the OCS student leaders who volunteered to assist in orientation at Town Tours. These students braved the sun providing tours full of information on resources and the opportunities downtown Middletown has to offer to over 400 new Wesleyan students.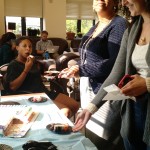 On Thursday, the Allbritton Center hosted a Fall Luncheon for the Allbritton Fellows, Civic Engagement Certificate Students, and the PCSE Peer Advisors. We shared a delicious meal, inspiring conversation, and a lot of enthusiasm for everything the coming year will hold!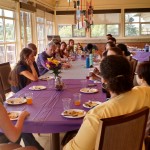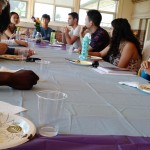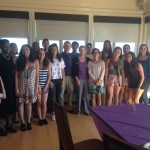 I really enjoyed getting to meet and get to know active, engaged, and curious students through both of these events- I hope they all become familiar faces to me in my year as a Fellow.