Roxie Chuang '17 was selected to receive an Enrichment Grant from the Patricelli Center for Social Entrepreneurship. With this grant, she presented her research for the Society for Personality and Social Psychology. You can read Roxie's reflection below, read past grantee reflections here, and visit the PCSE website to learn more about all of our grant programs.
---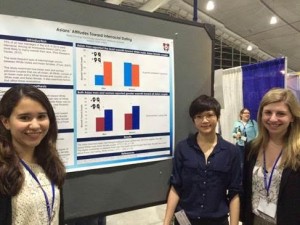 With the support of PCSE and Psychology Department, I flew from Copenhagen to San Diego to present my research at the 17th Annual Convention of Society for Personality and Social Psychology. With more than 4000 scholars around the world attending, it was the most mentally stimulating three days I have had.  Attendees from academia, non-profit, government, and private sectors brought different perspectives to the study and application of Social Psychology. I had been invited to present my research at the conference.
Social Psychology is an interesting field that could be applied to many other disciplines, which made this conference even more intriguing. I learned about how social psychology can be applied to advertising and marketing, and it opened up a new career path for me. With many scholars eager to address social injustice, we discussed the many ways and research that has been done to initiate social change. I find it intriguing that professors are also learning from each other in every conversation they had. 
My research is on Asian's Attitudes toward Interracial Relationship. I was introduced to scholars from all over the world. I heard their opinions on how to further develop my experiment. The field of interracial relationship research is one that does not get a lot of attention but is, in my view, a very important area of research because intergroup relationships can provide great insight to the source of prejudice and stereotyping. It is my belief that only by improving our understanding of how people of different races and nationalities perceive interracial relationships will we be able to truly understand how to make our society more inclusive. I will bring what I had learned at the conference back to my laboratory at Wesleyan, so we can brainstorm more research opportunities to create to better understand prejudice and stereotyping. This understanding will provide us with one of the tools to tackle the problem of racism. 
I would like to thank PCSE and the Feldman Family Fund for making this experience possible for me.