Want to do something productive this Spring Break? Thinking about how to transform your passions and liberal arts degree into awesome careers?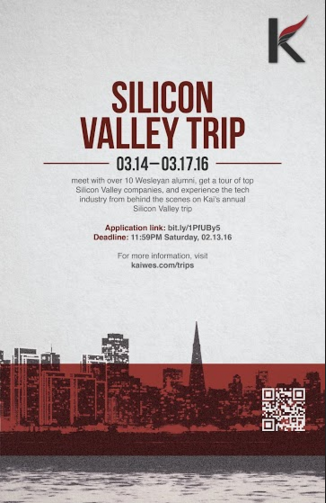 Join Kai's trip to Silicon Valley (March 14th to March 17th) to network with over 10 alumni at various stages in their careers, and to connect with other passionate students! Some of our previous trip participants have even landed internships with visited offices after joining. People of all career interests, not just tech, are encouraged to apply. You can read about previous trips here. Here are some reflections from their last trip: 
"Finally, we went to the Highline and practiced personal pitching as well as role play pitching to gain investment for actual companies. We started by writing out what we'd like to say about ourselves and then took on the tough task of cutting it down in an effective yet highly communicative ways. It was so helpful to hear the direction everyone took with their pitches and modify my own based on positive feedback or helpful criticism." – Maimouna Siby '16

"On the hour subway ride to a Chipotle right across from the NYC Google offices we started our discussion about problems we recognized growing up in each of our hometowns. The goal was to get the juices flowing for problem identification and to recognize that how and where one grows up can influence the problems one sees as worth solving. From my background growing up in San Diego, I pointed out how poor public transportation has had a negative impact on the economic mobility of the poor." – Alex Garcia '17 (trip leader)    
Questions? Email Josh Su '17 at jsu@wesleyan.edu.
Application closes at 11:59PM on Saturday, February 13th, and offers are extended at 5PM on Sunday. Keep your answers short and sweet!