Laura McCargar is the Jewett Center for Community Partnerships' inaugural Mentor in Residence.
Recently, our staff sat down with Laura to learn more about her background and work. Here are highlights from our interview: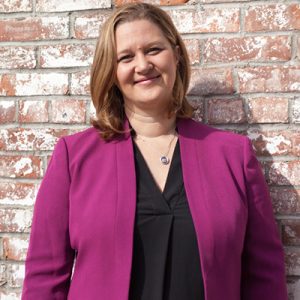 What work are you currently engaged in? Please tell us a bit about your background. What set you on this path?
I currently serve as the President of the Perrin Family Foundation, a philanthropic organization that engages in grantmaking and capacity building to advance youth-led social change in Connecticut. I can say without a doubt that a career in the field of philanthropy was absolutely absent from my childhood "what I be when I grow up" list, and to be perfectly transparent, it wasn't even on my radar 10 years ago.
I was born and raised in Oakland, California, and came out to Connecticut twenty years ago to attend college. Back home, I had attended a predominantly Black public high school and though I didn't understand "organizing" as an actual thing, I was surrounded by it – from the infamous Oakland teachers strike to student walkouts over propositions 187, 209, and later, prop 21.
As an undergrad at Yale, I helped co-found a New Haven-based nonprofit organization called Youth Rights Media (YRM) with students at the Yale Law School. Initially, YRM paired high school peer educators with Yale Law Students to conduct school-based workshops on students' rights in encounters with police officers. Over time, YRM's work evolved to focus less on the law of rights and more on the politics of rights – supporting youth people to critically analyze the systems and institutions that impact their daily lives, question the status quo, envision more just alternatives, and organize to build the power necessary to transform that vision into reality. Youth leaders at YRM created original media productions that profoundly shifted narrative around youth, justice and education system, paving the way for groundbreaking reforms at the Connecticut Juvenile Training School in Middletown and driving major policy shifts in both local and statewide school discipline policies. After eight years at the helm of YRM, I worked as a Soros Justice Fellow at A Better Way Foundation, where I engaged in a statewide research and policy project called Invisible Students, which laid the groundwork for building a statewide youth organizing network while examining the role of alternative and adult education programs in school pushout practices and the school to prison pipeline.
Along the way, I was tremendously fortunate to meet my own set of mentors who invested deeply in me, helping me to understand community organizing as its own craft and discipline, pushing me to deepen my understanding of my own power and racial identity, and holding me accountable for leveraging the access and privilege I carry as a white woman in this work. That, ultimately, is a huge part of the reason I now work in philanthropy. As a young, white, Yale graduate and New Haven transplant, I was able to launch and build an organization at a time when long-standing community based organizations and youth programs founded and led by people born and raised in this city were closing their doors. The institutional and structural racism at work in the education and justice system that young people were naming and challenging through organizing work at YRM is just as present in the nonprofit and philanthropic world, and ultimately I came to work in philanthropy in order to disrupt that.
What interests you about working at Wesleyan?
In 2004, young people created a documentary called CJT$: At What Cost, about the Connecticut Juvenile Training School. They premiered the documentary on the eve of former Governor Roland's federal indictment for contract steering and corruption which resulted in the construction of the $57 million youth prison right here in Middletown. At the time, the state was spending $250,000 per year per youth incarcerated there, and more than 75% of the youth there were incarcerated for nonviolent offenses. Following the premiere, one of the earliest community screenings we did was right here at Wesleyan, in collaboration with the students were then running Wes-PREP. I have long-admired the activist spirit of Wesleyan students and the consistency with which they have partnered with and shown up for community-based organizations on working to advance policy and legislation that centers racial, economic and social justice.
What brings you the most joy in your current work? What is most daunting—something that you hope to ameliorate?
I get to show up for work everyday and work with and alongside people, partners, and organizations that believe and know, in the deepest way possible, that we have the collective power to build a more just world. The transition into philanthropy was not easy for me, as my deepest love has always been working with young people, being a part of a process that supports young people to find their whole selves, to unearth and exercise the innate power, wisdom, and sense of justice they carry within. I feel tremendously fortunate to work for a foundation that is deeply committed to expanding young people's power. A major part of our work at the Perrin Family Foundation is building infrastructure – the capacity and connective tissue – to support youth-led social change.
One of the central ways we do that is through our Building Leadership and Organizing Capacity (BLOC) initiative, which brings together intergenerational teams of youth and adults from youth organizing groups around the state and supports them to build deeper relationships with one another and more effective organizing campaigns. The position I now hold enables me to see a much broader swath of the change ecosystem – the gaps, challenges, possibilities, opportunities – and to do so from a position where I actually have access to move and influence the distribution of resources in a way that authentically centers the voice, vision, and action of communities most directly impacted by the injustices they are fighting. That's also what makes the work daunting – how do you hold that power responsibility? The institution of philanthropy is possible because of the historical accumulation of wealth resulting from racist and oppressive systems. Philanthropy, as a sector, is rarely held to account for showing up in a way that owns that ugly truth.
And what are your hobbies? What do you do in your time off?
When I'm not at my job, most of my time is spent doing the work of mothering. I've got a 9 year old, 4 year old, and an 8 week old at home, which makes me a connoisseur of homemade slime, an expert on approximately 152 dinosaur species, a common core math flunkie, and a decent Mario Kart player. But my hobbies of choice are gardening and baking, both of which soothe, steady and calm my mind, and my fantasy hobby is pottery-making, a craft which I hope to one day learn.
What are you reading now?
Apart from Escape From Mr. Lemoncello's Library, which I'm reading with my daughter at bedtime (highly recommend!), I'm alternating between an anthology of short stories from Maine authors and essays from Alice Walker's Anything We Love Can Be Saved: A Writer's Activism.
What do you hope to impart to students and JCCP community partners?
The richest and most transformative moments of growth I've had over the course of my career have always started with the question "why." It's a question that those who see themselves working in youth and community-based organizations, who see themselves as activists, advocates or organizers for change must relentlessly ask of themselves. Why am I doing this work? The default is often to externalize the answer to that question, to answer the "why" with a reason that's about others rather than about ourselves. But showing up with integrity in this work requires ongoing internal interrogation that forces us to be brutally honest with ourselves about the ways in which our identities and life experiences shape and inform why we show up in our work the way we do and how that impacts the communities we work with. We must begin there. It's a facet of leadership that is seldom cultivated in school and generally not on the agenda in nonprofit management and professional development workshops, but we owe the work nothing less.
You can learn more about the Mentor in-Residence (MIR) program here.