The Jewett Center for Community Partnerships is excited to announce that Daniel McGloin will serve as the Center for Prison Education's new Academic Development and Planning Manager.
In spring 2018, Daniel joined the Center for Prison Education team as the Program Coordinator.
This Q&A provides an opportunity for us to learn more about Daniel and his new role as the Academic Development and Planning Manager: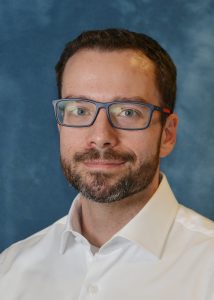 Tell us about your path to Wesleyan and your interests in prison education. What set you on this path?
I have been teaching Philosophy for the Bard Clemente Course in the Humanities since 2015, which provides free, for-credit liberal arts coursework to underserved populations. I have long been interested in non-traditional college education, and the opportunity to apply my mixed administrative and instructional background in service to CPE was irresistible. I feel very fortunate in how well it has worked out so far.
What excites you about the Academic Development and Planning Manager position?
This is a very exciting time for CPE, since Wesleyan approved the Bachelor's in Liberal Studies in May. I'm thrilled to work with my colleagues and our faculty and administration to successfully implement the degree in our correctional facilities and to see our students earn a Wesleyan Bachelor's degree. I am also excited to become increasingly engaged with the Wesleyan community as CPE continues to grow.
What are you reading these days?
I am in the middle of two fantastic books, On Earth We're Briefly Gorgeous by Ocean Vuong and 'Cuz by Danielle Allen. Vuong is a poet by training and he writes this beautiful, often heartbreaking, semi-autobiographical novel as a series of letters to his mother about growing up as a Vietnamese immigrant with her in Hartford. Allen shares the story of her cousin, Michael, who spent over a decade in prison for a carjacking at the age of 15 and who was murdered after his release. It offers a sharp look at the many flaws in America's War and Drugs and carceral system that failed Michael and his family. I cannot say enough about each of these books.
How do you spend your time when you are not "working"? Do you have any hobbies?
I still teach for the Clemente program in the spring semesters and I usually enroll in a GLSP class. I am an active member at my local spin gym and I spend time at home with my wife and 13-year-old black cat "Hank."
Learn more about the Center for Prison Education by checking out their website, https://www.wesleyan.edu/cpe/
or by attending their WESEMINAR during Homecoming/Family Weekend– The Liberal Arts Behind Prison Walls: Learning with the Center for Prison Education
Saturday, November 2, 2:30-3:30 pm
PAC 001
All are welcome