Rosemary Ostfeld '10 is a visiting professor in ENVS and CSPL, and she is the 2019/2020 JCCP Mentor-in-Residence. Read her reflections on ENVS 282 Sustainable Agriculture and Food Systems:
During the fall 2019 semester, students in ENVS 282 Sustainable Agriculture and Food Systems learned about the path from farm to fork and got involved in the community to explore how food production and consumption can be more sustainable.
One of the first experiences of the semester was a field trip to a local apiary with buzz-worthy beekeeper Drew Burnett. Not only is Drew extremely knowledgeable about honeybees, he is also a social entrepreneur. His company, Drew's Honeybees, is a benefit corporation that creates USDA organic skincare products and donates 20% of profits to the Connecticut Agricultural Experiment Station Honeybee Program. Drew and his assistant Curtis Witt helped the students get geared up in bee suits before opening up several hives. Drew explained the differences between queen, worker, and drone bees, and how Colony Collapse Disorder is posing a threat to honeybee populations. An article by Katie Aberbach in the Wesleyan blog can be found here.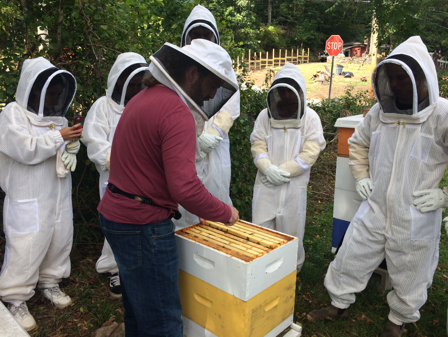 Students also visited KNOX Hartford, an organization which has community-based programs centered around building green neighborhoods in Hartford. Environmental educator Lauren Little and Executive Director Patrick Doyle explained the variety of programs the organization runs and gave the students a tour of one of the KNOX Community Gardens. There are currently 23 gardens that KNOX oversees which provide food to over 400 families living in Hartford. An Incubator program provides community members who are interested in farming access to a plot of land, resources, and training so they can start their own urban farm business.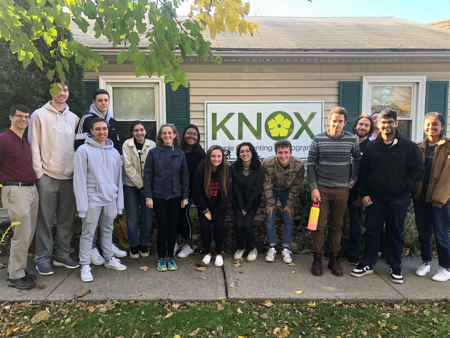 The final field trip of the semester was to the Connecticut Agricultural Experiment Station in New Haven, Connecticut. When students arrived, they were greeted by the Vice Director, Dr. White, and learned about the history of the Connecticut Agricultural Experiment Station – to the student's surprise, it was originally located at Wesleyan University in Judd Hall. Students then learned about plant pathology from Dr. Li, entomology from Dr. Stafford and Dr. Ridge, the tick surveillance program from Dr. Molaei, and the mosquito surveillance program from Dr. Sheppard. An article written in the Wesleyan Magazine about the Connecticut Agricultural Experiment Station's original location at Wesleyan can be found here.
During the course, students completed Community Food Projects. Team 1 created a written document summarizing the findings of the Farming Assessment Workshop from the First Annual Middletown Urban Farming Symposium. They also created an online survey to be distributed to Middletown farmers to better understand how the city could support agricultural production. These outputs were presented to the City of Middletown Agriculture Committee.
Team 2 applied for and were awarded funding from the Wesleyan Green Fund to organize a small, on-campus screening of The Game Changers. The Game Changers was produced by famous athletes such as Jackie Chan and Arnold Schwarzenegger along with film icon James Cameron. The film is about the health and environmental benefits of choosing a primarily plant-based diet and shares the stories of exceptional plant-based athletes.
Team 3 worked with Drew Burnett from Drew's Honeybees to create a series of educational blog posts and infographics. The articles summarized information from recent academic research on varroa mites, honeybee aggression, neonicotinoid pesticides, and honeybee foraging behavior.
Finally, Team 4 volunteered with Bon Appétit Resident District Manager Mike Strumpf at the St. Vincent de Paul Soup Kitchen. Mike organized an abundance of food to be prepared and donated by the dining service for the students to serve during a special Thanksgiving lunch. Over 200 people from the community attended.
To connect or collaborate with Rosemary, contact her at rostfeld@wesleyan.edu
And learn about her food startup Healthy Planeat in this Middletown Press article.