Critical Consciousness is the ability to recognize and analyze systems of inequality and develop a critical lens to navigate and challenge these systems. This is a core component of the way youth organizing is approached yet it is a core competency missing in many youth development programs. Developing a Critical Consciousness lens is a long-term process that is essential among youth workers and plays a fundamental role in young people's meaningful growth, development and success.
Critically Conscious Youth Development (CCYD) at Wesleyan is an extension of the grant program and capacity-building curriculum developed within the New Haven-based Perrin Family Foundation. CCYD introduces a lens for youth development programs that focuses on centering identity, lived experiences, and political education as core competencies. The CCYD framework is designed to support youth organizations that embrace efforts to address gaps in the youth development sector, and to build a stronger bridge between youth development and youth organizing groups in CT.
This interactive workshop is designed for students and community partners engaged in youth development work, and anyone who is interested in learning more about critical consciousness.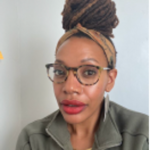 Ja'Dell Davis is a youth worker, culturally responsive evaluator, and a social scientist. She is currently a postdoctoral researcher and evaluator at the Wisconsin Evaluation Collaborative and a Senior Evaluator within the WCER Evaluation Clinic. Her work focuses on race-ethnicity in education, particularly the experiences of youth and practitioners in Out-of-School Time and afterschool education, the transition from high school to post-secondary education, and race discourse in educational contexts. Ja'Dell's dedication to her current research and evaluation work is informed by her experience as a public school teacher in Philadelphia and a youth worker/college access professional in New York City. Ja'Dell earned her Ph.D (and MS) in Sociology from the University of Wisconsin-Madison. She also holds a Master's in Teacher Education from the University of Pennsylvania.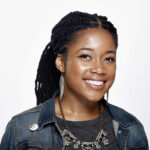 Morgan Little is a social worker, youth worker, healer, trainer and program leader in the non-profit realm. She currently is the Senior Director of Education at a large reproductive health non-profit prioritizing reproductive justice and health education for young people. Morgan has had experience at various youth-serving non-profits working in college access, after-school, social justice educational programming all throughout New York City. In each of her roles and work, Morgan has been able to embed the critical conscious framework in how programs were being designed. Morgan has a Master's in Social Work from Columbia University and is certified in Human Centered Design Thinking.
Wednesday, March 2nd, 4:30-6:00 pm, EDT
Virtual, via Zoom
Free and open to the public
Zoom Registration here: https://us02web.zoom.us/meeting/register/tZAscO-hqjojEtR_GJLEjiQ-7fj0sgtcIE5u
Interested? Learn more about Critical Consciousness before the event: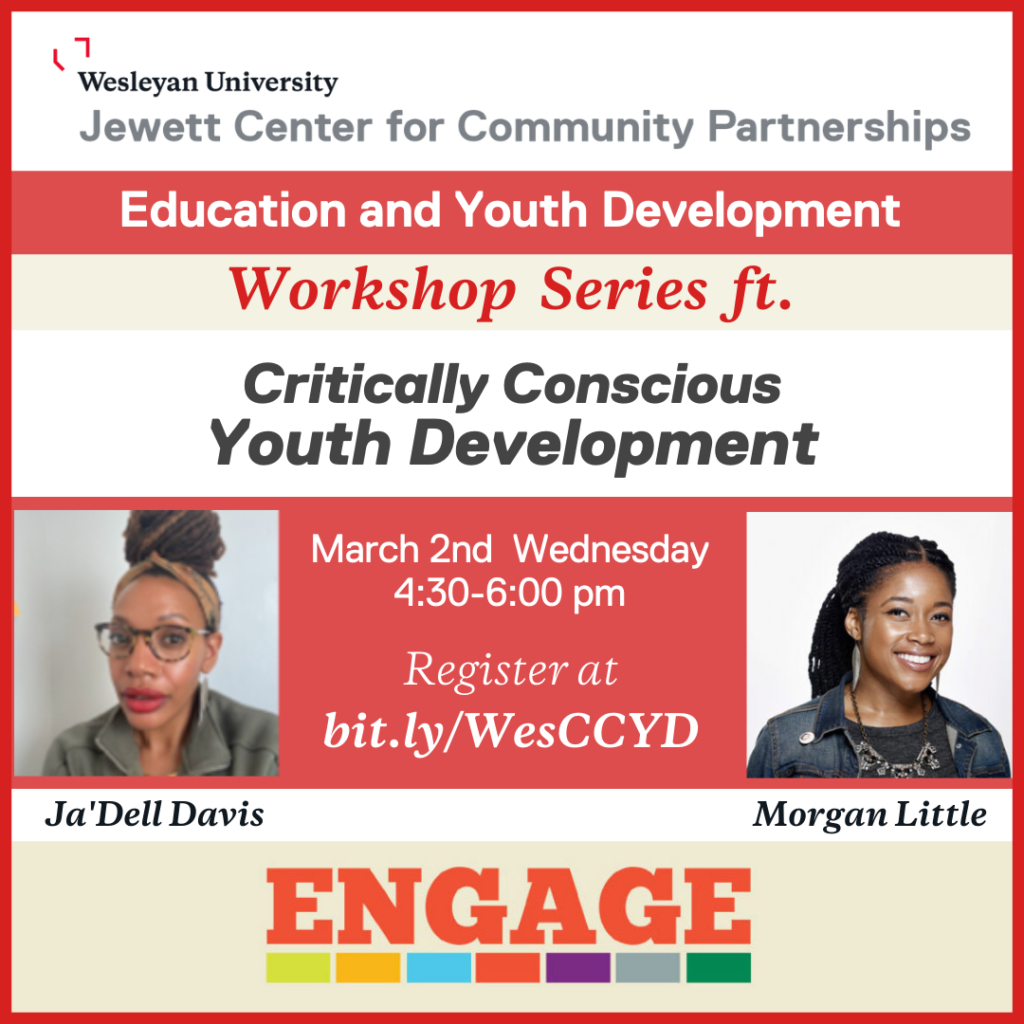 This event is sponsored by the Jewett Center for Community Partnerships, and is part of their Education and Youth Development Focus Area. Learn more about the JCCP's Areas of Focus: https://www.wesleyan.edu/jccp/about/FocusAreas.html