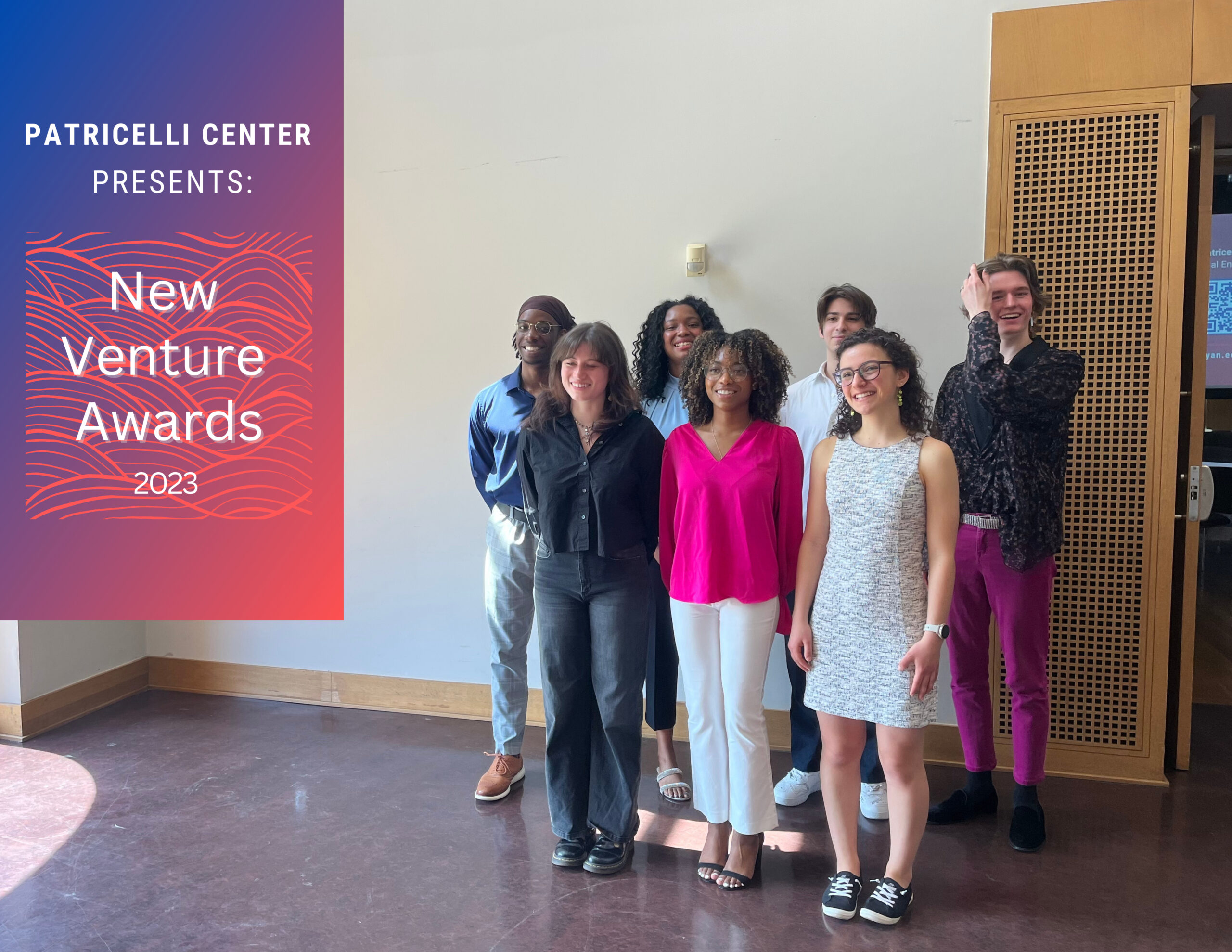 Wesleyan's
Patricelli Center for Social Entrepreneurship
is pleased to announce the winners of the
2023 PCSE New Venture Awards
(formerly Seed Grants).
These student-led social ventures will each receive $5,000 in unrestricted funds as well as training, advising, mentoring, incubator workspace, and other resources from the Patricelli Center.
Recipients were selected from a pool of finalists who submitted written materials and pitched to a public audience and a panel of expert judges. Applicants were assessed on their project design, leadership qualities, and potential for social or environmental impact.
The 2023 Patricelli Center New Venture Award Winners are:
AquaRoots
Kekeli Logoh '23 (She/Her)
klogoh@wesleyan.edu
AquaRoots

is an agricultural tech venture that aims to redefine farming in Togo by introducing a new farming model centered around aquaponic systems that will increase farming productivity, crop yields, and nutritional diversity in vulnerable Togolese communities. AquaRoots does not seek to replace traditional farming, but rather integrate this new system so that staple food crops can be grown all year-round.
Pazu Productions
Romy Beckman '25 (He/Him)
rbeckman@wesleyan.edu
Pazu Productions

is a media production company that will work with activists and non-profit organizations to create content that influences the way people understand and care for the world. Our first initiative is a collaboration with Dr. Gary Altheim, the founder of Growth and Development Services Inc. (GDS), to create a short-form documentary demonstrating the immense healing power of music therapy and intergenerational relationships for people living with Alzheimer's and dementia.
Concussion Box
Eliana Bloomfield '25 (She/Her)
eliana@concussionbox.org
Concussion Box

is a concussion support organization dedicated to the idea that healing doesn't have to happen alone. We host an audio library of concussion stories and provide tailored concussion care packages to help bring comfort and resources to patients at the beginning of their recovery journeys.
Congratulations to all finalists for their remarkable work:
Daëlle Coriolan '24 (She/Her)
dcoriolan@wesleyan.edu
DearCurlz

is an online subscription service that delivers curly/natural hair products and styling tools monthly to empower customers with curly/natural hair. This will be done by providing detailed video instructions and designing a successful hair routine catered to specific needs. DearCurlz will partner with local shelters to donate products that customers return as well as create packages from recycled materials.
Olivia Berger '26 (She/Her)
oberger@wesleyan.edu
In the Know

is an app and website that seeks to create a greater understanding of legislation in the United States population. By utilizing a social media framework, the app would make the content of bills accessible and the effectiveness of existing and proposed policies transparent.
Darren Boyce '25 (He/They)
dboyce@wesleyan.edu
Animals of the People

addresses the barriers low-income, and other financially-limited pet owners face when accessing veterinary care, with a focus on preventative medicine. We hope to bridge the gap through educational workshops, microgrants, and partnering with other organizations to create a more inclusive veterinary space for low-income pet owners.
Nigel Hayes '23 (He/Him)
nchayes@wesleyan.edu
Jurybean

, the Duolingo for civic education, is a user-friendly app that teaches laws and rights to individuals who want to confidently navigate their civic systems. With interactive modules, expert resources, and personalized guidance, Jurybean is revolutionizing legal education and transforming the way people understand and protect themselves.
All of our

finalists are seeking advice, connections, and encouragement as they move ahead. Feel free to reach out to Patricelli Center Interim Director Ahmed Badr

(

abadr@wesleyan.edu

)

for additional information.
Concussion Box, Pazu Productions, and AquaRoots will report on their progress in the months ahead.