Please see the Wesleyan Connection for the original post by Steve Scarpa: https://newsletter.blogs.wesleyan.edu/2023/04/19/jewett-center-hosts-community-safety-conference/
(REBLOG)
Wesleyan's Jewett Center for Community Partnerships convened a group of scholars, public policy specialists, funders, and activists to explore what community safety is, what it can look like, and the systemic barriers in place preventing an ideal version of that goal.
The recent conference, "Re-imagining Community Safety," showed the challenges in creating a more just world. The daylong conversation took place Thursday, April 13. The Center for Justice Innovation was a co-sponsor of the event.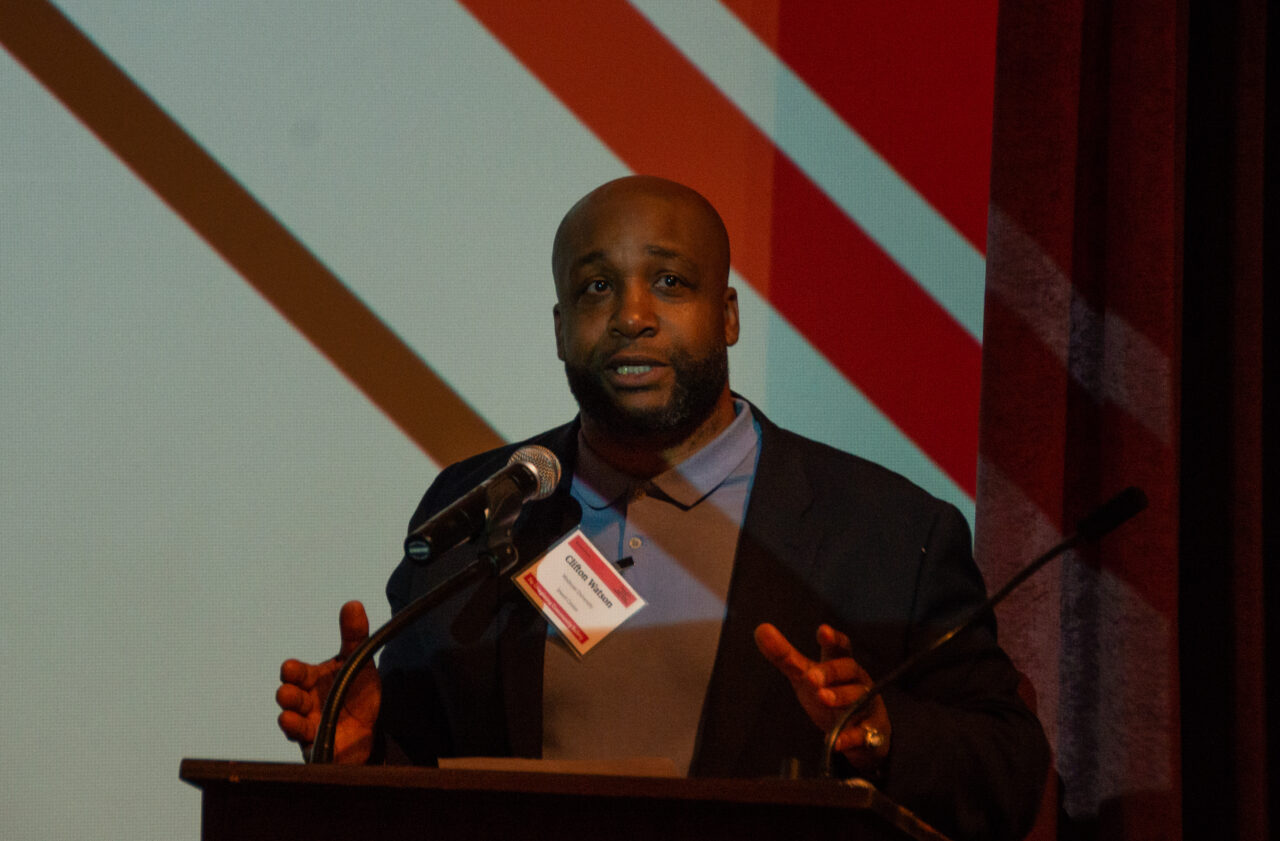 "We have a long and deep tradition of activism and community engagement, so consider yourself at home" said Clifton Watson, director of the Jewett Center. "We hope to learn from your expertise and perspectives. We are excited about what possibilities will come out of the conversations today."
In his introduction to the day's proceedings, President Michael S. Roth '78 described the safety of the community one of the primary concerns of his position.
"There is not a day that goes by where we don't read about someone with deadly weapons wreaking havoc on a community. We also see the responses to it, which range from the pathological to just old-fashioned racist and unjust. It seems that the subject you are investigating couldn't be more timely or urgent. Safety and justice are so terribly intertwined right now and so fraught in the United States," Roth said. "I believe that at Wesleyan we have a deep responsibility to introduce students to research as practice and practice as research, in order to help them be prepared for civic engagement … to play positive roles in the public sphere."
Khalilah Brown Dean, Associate Professor of Political Science at Quinnipiac University, led a panel discussion in the morning with Alex Duran of Galaxy Gives; Jocelyn Fontaine of Arnold Ventures; Leonard Jahad, executive director of the Connecticut Violence Intervention Program; Robin McGinty, an ACLS Leading Edge Fellow; Alex Gimenez Santana of Rutgers University; and Rachel Swaner of the Center for Justice Innovation. "What does community safety look like in a country that doesn't provide space for us to sit with the breaches of it?" Dean said.
"I am not sure that Black and Latino communities have ever been safe," McGinty said.
It's impossible to explore the concept of community safety without acknowledging the structural inequities many people are faced with—lack of access to education, jobs, and healthy food, the panelists said. In inner cities, even the lack of help cleaning the streets leads to a notion that the people who live there are forgotten.
"How communities interact with their neighborhood depends on how they feel about it," Duran said.
There is also the national fascination with guns to contend with. Fontaine noted that many young people carry guns because they are afraid of losing status, or the circumstances in their own neighborhoods. "Gun carrying is in our culture," she said.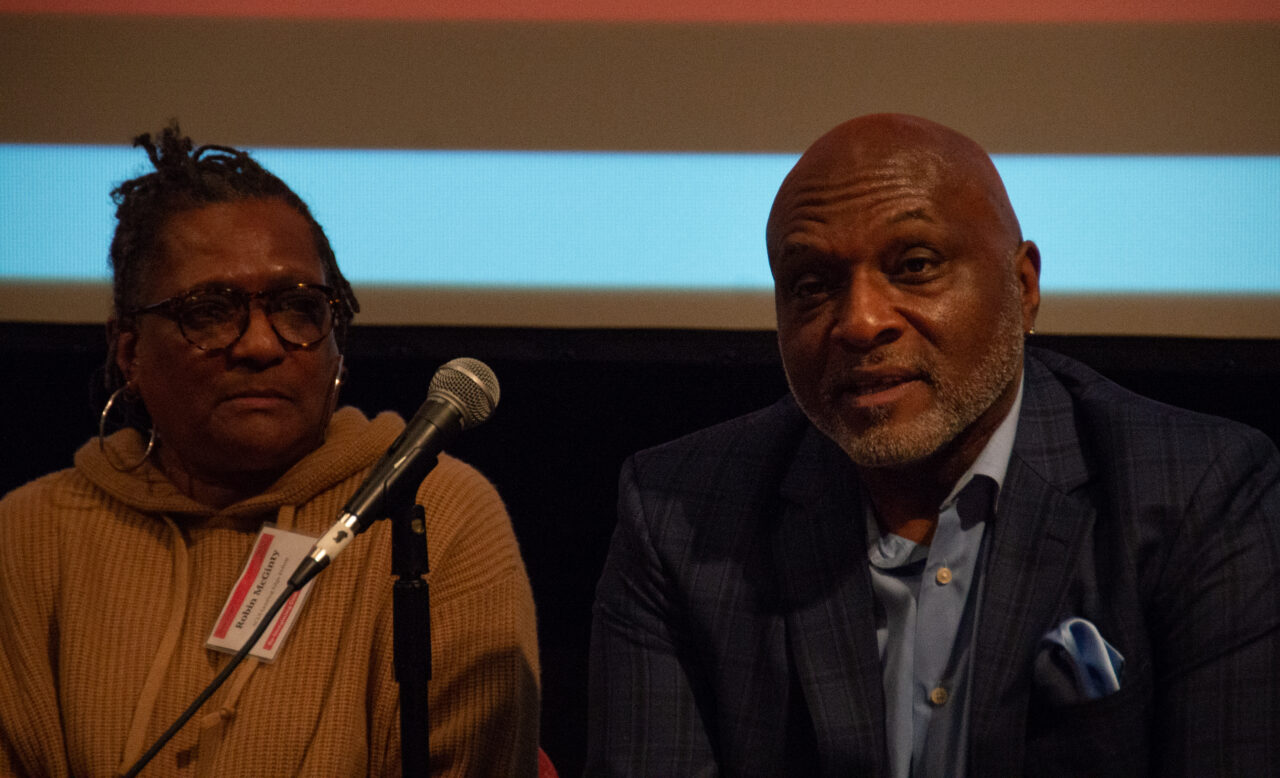 In addition to the research and policy making on this topic, effective community safety measures include people who are willing to do the difficult interpersonal work. One of the most fraught places in New Haven after a shooting is the local emergency room, according to Jahad. Hundreds of people descend on the hospital, some hoping for good news, others to mourn—or seek revenge.
Jahad and his team of violence mitigation specialists fan out in that volatile environment, talking to people, to try to prevent another person from becoming a casualty. "When we knew people had a beef, we got right in front of it," Jahad said, describing his group's proactive and collaborative approach towards making a safer city.
After a break for lunch, the afternoon's town-hall style conversation encouraged participants to wrestle with the multi-dimensional aspect of community safety. Moderator Alexis Bivens of the Connecticut Council on Philanthropy noted that funders, research, and public policy makers need to be reminded that violence prevention work is a long, slow road and that traditional metrics don't always offer accurate measures of its efficacy. The process of tracking uncertain or unreliable data often takes away from core violence prevention functions but is necessary to get money needed to do this important work.
"We have too many people talking at communities and not listening to communities," Dean said.
Watson's plan after the conference is to connect the participants with each other in the hope that Wesleyan can find ways to help facilitate the cross pollination of their ideas.
"There is nothing better than conversation. If we cannot talk to each other, what are we doing? … So, keep at it and keep faith. This is not the end of the conversation—you will go back to your respective jobs and circle and wrestle with these problems. We might have a better world if we do that," moderator Babz Rawls Ivy, president of Penfield Communications.
The Jewett Center for Community Partnerships and the Center for Justice Innovation plan to host subsequent convening and are exploring ways to collaborate with stakeholders around the questions and challenges raised during the conference.