The 
Patricelli Center for Social Entrepreneurship
 awards annual 
seed grants
 to fund the launch or early stage growth of a Wesleyan-connected social enterprise, project, program, or venture. Each grantee reports back with blog posts and photos. Here's the second report from Brent Packer '15, founder of
Potlux
, the first online community where collegiate sustainability initiatives are effectively aggregated and shared. Also on the Potlux team are Aaron Rosen '15, Jared Geilich '15, Gerard Liu '15, Keren Reichler '16, Cassia Patel '16, Ellen Paik '16, and Gabe Frankel '15 and Marguerite Suozzo-Golé of Brown University.You can read Potlux's first update
here
and their second update
here
.
---
"It can be easy to be discouraged or feel that your voice cannot be heard at a large entity like a university; however, having a platform like Potlux to share ideas and projects allows other schools to see what is possible. Our initiatives impact our campus, which is awesome, but if they are copied and implemented at other colleges, the impact spreads even further. The advice that schools share on Potlux allow other campuses to have a better jumping off point than if they had started a project from conception."
~ Lorianne Strawder, Chief Sustainability Officer – Georgia College
So much has happened since our last update at the end of the summer. On the personal side, I've moved to Toronto, started working full-time in management consulting, and found a pristine unicorn painting in my building's trash room. Still trying to figure out why someone would throw away all that magic and grace…
Ok let's get back to Potlux and our news about the United Nations Environment Programme, Paris Climate Conference, and a potential merger with a major sustainability organization.
Before sharing these exciting news, I'll first take a step back to give an overview of Potlux.
Our goal has been to solve the issue of sustainability knowledge fragmentation within higher education. We noticed that so many university groups had the same goals — reducing footprints, raising awareness, supporting inclusion, etc. — but were unaware of others performing similar initiatives and unaware of the best practices. Some organizations were peripherally related, but there was nothing specifically targeting this issue.
Drawing from the successes of community-building tech startups, a group of Wesleyan students met in the Patricelli Center board room during the fall of 2014 to create our own platform. Our all-star team of Aaron Rosen '15, Jared Geilich '15, Gerard Liu '15, Keren Reichler '16, Joaquin Benares '15, Ellen Paik '16, Cassia Patel '15, Gabe Frankel '15, and I spent that first semester researching and discussing how we should approach this problem. By the spring semester, we created a prototype website and made iterations based on the feedback we received from Wesleyan sustainability students and faculty.
At the beginning of the summer, Marguerite Suozzo-Golé joined from Brown University to take Potlux to the next level as our Director of Strategy.
That's where I'd like to begin.
United Nations Environment Programme Outreach Partnership
The 2015 academic year concluded with an online platform, Wesleyan beta-testing, and a generous seed grant from the PCSE. Our next phase involved growing beyond Wesleyan to test how our service resonates with other universities across the United States. After an extensive literature review, interviews, and tea-fueled brainstorming sessions, we created our method to bring new members onto our online community. Rather than merely performing outreach, we wanted to also gain some insight into the effectiveness of our outreach method.
We performed an experiment with 80 top American sustainability universities. Half were sent the typical outreach emails explaining who we are, what Potlux can do for their program, how we need their help, etc. The other half were sent similar emails but were given an additional opportunity — based on the content they upload to Potlux, a winner would be selected to be featured in a United Nations Environment Programme article. We were fortunate to have a group of expert panelists/advisors donating their time to help us select the winning university (and to allow their incredible experiences to be associated with our group of scrappy tech activists). Special shout out to:
Gary Yohe — Wesleyan's Huffington Foundation Professor of Economics and Environmental Studies. Recipient of a share of the 2007 Nobel Peace Prize through his work with the Intergovernmental Panel on Climate Change (IPCC)
Khairoon Abbas – Environmental consultant for the United Nations Environment Programme – Sustainable Lifestyles and Education.
John Bennett — Principal of Bennett & Associates environmental consulting with experience in the social, public, and private sectors across 40 countries.
Jory Cohen — Managing Director of Youth Social Innovation Capital Fund
It was a huge success. The month-long outreach campaign helped increase our university membership by 225% and upload count by 185%. We also were able to highlight the amazing work done by our winner, Georgia College, in the article posted here. It was here that Georgia College's Chief Sustainability Officer said that great quote about Potlux posted at the top of this article.
In the process of this outreach campaign, we generated a lot of buzz around the collegiate sustainability community. People were posting about us in message boards and talking about Potlux at sustainability gatherings on the west coast. We're still not sure how all these people heard about Potlux, but hey, we're definitely not complaining.
Paris Climate Conference (COP21)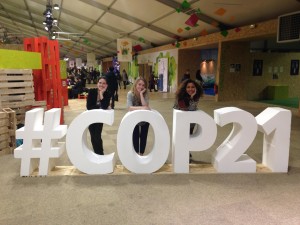 It has been our goal from the beginning to engage universities worldwide. Environmental issues affect the entire world, and by sourcing ideas as a global unit, we are more effective. What better way to begin building the international Potlux community than piggy-backing on the Paris Climate Conference? Potlux used part of its PCSE seed grant to send our Director of Strategy, Marguerite, to Paris for the talks.
Marguerite spent most of her time in COP21's Climate Generations Area developing relationships with youth delegates and sharing her excitement about Potlux with them. She also met with various NGOs and youth delegates including: ERASMUS (EU), YOUNGO (International), Earth in Brackets (International), Sierra Student Coalition (USA), SustainUS (USA), Norway, China, France, New Zealand, Taiwan, The Netherlands, and others.
Students were really excited about Potlux and immediately saw the potential in our organization. Especially in the case of the COP, which is a pretty high-stakes 2-week event, it's important for the members of the global sustainability community to be able to continue the networks built while there. Potlux provides that platform.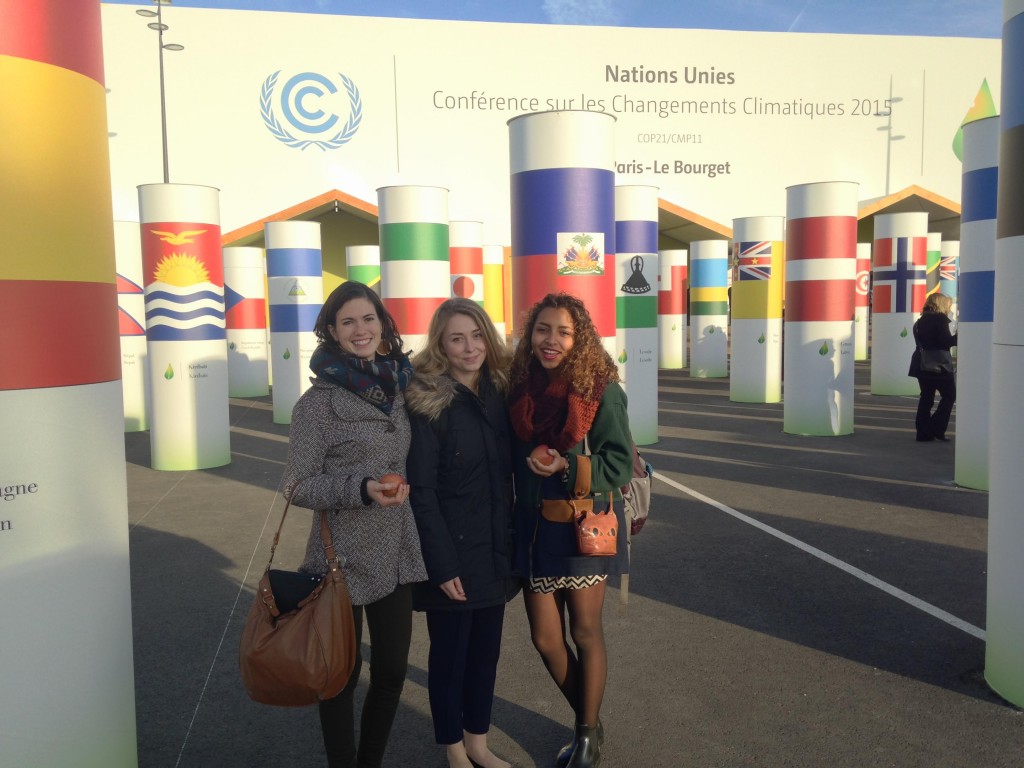 Marguerite likened COP21 to a brick-and-mortar version of Potlux. It's a place where organizations and individuals share best practices, successes, and failures in the hope of building a stronger and more inclusive climate movement. Plus, the outcome of Paris sends a strong signal that we are filling an important need: connecting existing organizations and projects in their shared aim to create a more sustainable existence, and therefore building a broad-based movement.
We're working now to leverage these new connections to make roots in the international sustainability community.
Potential Merger
A sustainability organization like Potlux also needs to think about the sustainability of its organization. (Har har har…good one Brent! I see what you did there!) For various reasons, we're looking to merge with an established organization. They will be able to grow their reach into a difficult market segment – millennials – through Potlux's proven concept, branding, and network. Potlux will be able to better grow under the support of an established organization. We see this as a great approach to solve the issue of sustainability knowledge fragmentation within higher education.
For the past 4 months, we've been in talks with one of the largest sustainability non-profits. Though we're far from finalizing anything, we both share the same goals and are actively working to join forces. I'll keep you updated on any exciting developments.