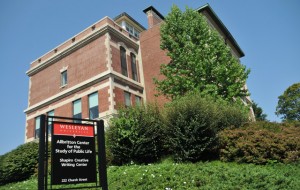 Business is booming in the Allbritton Center.
The Office of Community Service is growing (Welcome, Scholars in Action and Julia's Star!), the Patricelli Center is hosting even more workshops, students are flocking to the Civic Engagement Certificate, and each semester boasts an even great number of courses that address public life or incorporate service-learning (or both).
We want the Class of 2019 to be ready to take advantage of all our resources next fall, so make sure to direct pre-frosh to Allbritton 311 on Thursday, April 16 at 2:00 PM for our Open House!
They'll learn about the classes, trainings, mentoring, funding, and extracurricular opportunities that our offices offer, and hear from a few students about their experiences. The student panel includes Nina Gerona '15, Micaela Kaye '15, Michael Linden '15, Marisa Guerrero '15, Aidan Martinez '17, Ophelia Benedetti '17, and Mika Reyes '17.
Of course, the Open House isn't just for pre-frosh. Anyone who would like to know more about social impact and university-community initiatives is welcome to attend! There will be light refreshments.
(Looking for other great events for pre-frosh? We suggest learning about the physiology of drugs, discussing "voluntourism" with SHOFCO, watching Obvious Child with the Wesleyan Doula Project, and eating froyo for Green Street!)