Each year, the Patricelli Center for Social Entrepreneurship awards three $5,000 seed grants to fund the launch or early-stage growth of a project, program, or venture. Appalachian Scholar Project, run by Dennis White '19, was one of last year's winners. This is Dennis's third report since receiving funding from the PCSE in February 2017. You can read his other reports here and here.
Since we last checked Appalachian Scholar Project continues it's outreach campaign into southern West Virginia. Our first Scholar Daya Harris is currently in the midst of her junior and gearing up for our programming in the summer time. Gabe, our director of curriculum is studying abroad this semester in Israel and will return in July to complete our programming in Charleston West Virginia.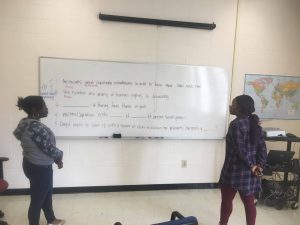 We've also got exciting news of an expansion into McDowell county West Virginia. We intend to run another two-week program in McDowell county in the town of Welch. Dennis White, the program director, will be travelling there frequently during the semester to secure housing for staff and space for students.
Lastly, Appalachian Scholar Project recently crowdsources 1K in individual donations from people around the country to administer our program. It's difficult funding a program like this in West Virginia and breaking new ground is never easy. However, with the support of people that want to see West Virginia change, we've been able to secure our food and transportation budget for staff and students for the entire two weeks. Appalachian Scholar Project will continue to administer this program until West Virginia education access reflects the rest of the country. Thanks to the Wesleyan community for all the incredibly interest and support the program has received.