Standing with Ukraine: A Series of International Livestream Conversations
All are invited to meet in-person and on Zoom for this Friday's international livestream conversation, focusing on the eastern city of Dnipro, Ukraine. Panelists include:
Mayor of Dnipro Boris Filatov
Pavel Khazan, Environmentalist and Officer in Ukrainian Armed Forces
Nataliya Chernyshova, Dnipro City Council
Juliya Dmytrova, Director of TAPS/Ukraine
Bonnie Carroll; Founder and President of TAPS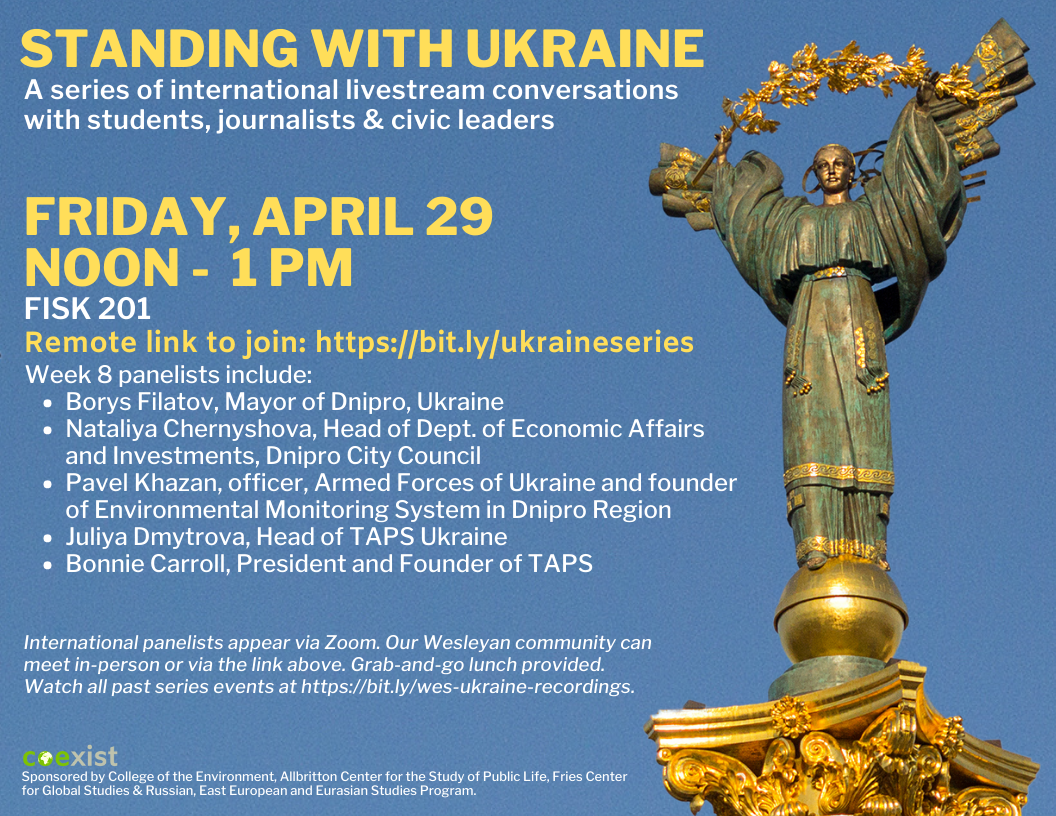 The Wesleyan community is invited to meet in-person and on Zoom for a series of international livestream conversations with students, journalists & civic leaders in Ukraine, with occasional guests from Russia and Belarus. The intention is to have conversation with those directly impacted by the crisis, to better understand the situation as it evolves.
Fridays noon – 1PM
In-person at the Fries Center, Wesleyan campus, and online:
Remote access link:
bit.ly/ukraineseries
Grab and go lunch provided in Fries Center
Recordings of previous conversations are available here:
https://www.wesleyan.edu/cgs/ukraine/Videos.html
The series is sponsored by the College of the Environment, the Allbritton Center for the Study of Public Life, the Russian, East European, and Eurasian Studies Program, and the Fries Center for Global Studies. All attendees must follow Wesleyan's most current covid guidelines found at
https://www.wesleyan.edu/keep-wes-safe/
.