Part of the mission of Wesleyan is to provide "an education in the liberal arts that is characterized by boldness, rigor, and practical idealism." Those attributes come to life at the Patricelli Center, where students and alumni find real-world applications for their idealism,
hone their skills as entrepreneurs and intrapreneurs, and join the legions of trailblazing changemakers who have come of age at Wesleyan.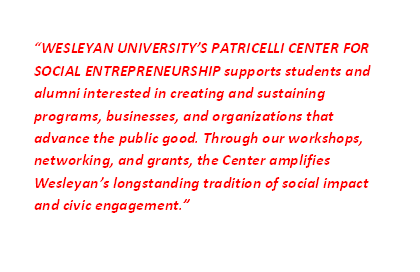 Established in May 2011 through a gift from the Robert '61 and Margaret Patricelli Family Foundation, and with ongoing support from Propel Capital, Newman's Own Foundation, and a number of Wesleyan alumni and parents, the Patricelli Center for Social Entrepreneurship is now entering its fifth year. Demand for services grows every semester, and the Center has become a hub of social impact and entrepreneurship activity on campus. It has engaged scores of alumni with the University, with students, and with each other. Wesleyan's "changemaker mafia" is collaborating in unprecedented ways, supporting each other and amplifying their collective impact worldwide.
NEWS & HIGHLIGHTS
In 2014/2015, the PCSE offered 37 workshops, trainings, and networking events featuring 60 presenters, awarded 24 grants to 39 applicants, provided 277 advising sessions and dozens of professional connections to 121 students and alumni (42% of whom sought out multiple advising sessions), and added 38 alumni volunteers to our growing network.
Princeton Review named Wesleyan the #1 Best School for Making an Impact, "headlined by the Patricelli Center for Social Entrepreneurship" according to Today.com.  
In a post-graduate survey of the Class of 2014, Wesleyan's newest alumni reported high satisfaction with the Patricelli Center. Among those who participated in PCSE programs, 99% were satisfied or very satisfied.
Patricelli Center Advisory Board member Amir Hasson '98 spearheaded a video project to document Wesleyan's tradition of social impact. Film major and PCSE advisee Jacob Sussman '17 put together a team of students to produce a six-video series featuring social entrepreneurs Ellen Remmer '75 P'12, Shawn Dove '84, Sasha Chanoff '94, Rachael Peters '02, and Joaquin Benares '15.
GRANTS
Three $5,000 Seed Grants were awarded to fund the launch or early-stage growth of a Wesleyan-connected project, program, or venture. For the second year in a row, this grant was administered in a competition format, and winners were selected from a strong pool of six finalists who submitted written business plans and participated in a public pitch session with a panel of expert judges. Applicants were assessed on their project design, leadership qualities, and potential for social impact.

Rachel Verner '15 will use her grant to launch Assk, a company that strives to normalize sexual consent and address root causes of sexual violence. Following a successful pilot at Wesleyan, Assk will turn to Kickstarter to sell its underwear, t-shirts, and other apparel, reminding customers to "assk first." Simultaneously, Assk will develop consent workshops and curricula for schools, community groups, and health educators.
The Potlux team — Brent Packer '15, Aaron Rosen '15, Jared Geilich '15, Gerard Liu '15, Keren Reichler '16, Cassia Patel '16, Ellen Paik '16, and Gabe Frankel '15 — are building the first online community where collegiate sustainability initiatives are effectively aggregated and shared. The potential for this platform is huge: facilitating best practice movements across the college network, inspiring new ideas, building intercollegiate collaboration, and catalyzing project funding. (This Seed Grant was funded by the Norman E. Priebatsch Fund for Entrepreneurship.)
Now in its third year and ready to professionalize and grow, the Wesleyan Doula Project — Alexandra Stovicek '17, Hannah Sokoloff-Rubin '16, Julia Vermeulen '15, and a team of undergraduate doulas — will use the Seed Grant to hire a fundraising and communications intern, bring doula trainings to campus, and replicate their innovative model on other college campuses. Currently the only student-run, volunteer collective of its kind, WDP is part of a greater movement to address growing inequalities in reproductive health care.

Four students received summer internship grants from the PCSE. Like all of our grantees, these students will report on their experiences via ENGAGE blog posts.

Roxie Chuang '16 will be working with AFL-CIO Center for Strategic Research in Washington, D.C., which is focused on understanding corporate ownership structure, finance, and power in order to better support workers' rights. "As an activist committed to social and economic justice, this internship is a very exciting opportunity for me to help build the labor union movement and make a direct impact on the lives of workers," Roxie says. "My career goal is to work in a non-profit organization dedicated to fighting for equality. Working with AFL-CIO will be a fantastic opportunity to explore the many ways that I can contribute to this field."
Anna Comito '17 will intern with Supporting Kids in Peru (SKIP), a non-profit organization that provides social services and English, math, and economics classes to economically disadvantaged children in El Porvenir. Anna will teach math and English, and she will help adults to develop business endeavors and facilitate economic development. Anna says her goal is to "take the analytic tools I learn as a math major and apply them in an NGO setting to help empower people and their communities." (This Internship Grant was funded by the Norman E. Priebatsch Fund for Entrepreneurship.)
Sarah Essner '17 was selected to be a summer advocate with LIFT Philadelphia. LIFT works to help community members become economically stable and improve the well-being of the community overall. "As a summer advocate I will work one-on-one with low-income community members," Sarah explains. "I will be responsible for assisting members with finding safe and stable housing, applying to jobs and resume building, budgeting finances, figuring out what public benefits apply to them, and much more."
In 2004, Eric Herman '04 and Jesse Brenner '04 founded Modiba Productions, a Brooklyn-based artist management, album production and music licensing company dedicated to international artists and social responsibility. This summer, Oscar Parajon '16 will intern with Modiba. Oscar says, "This is in all honesty one of the greatest opportunities I have come across in my life, and this grant will make my participation possible."
Claudia Kahindi '18 and Olayinka Lawal '15 received the prestigious Davis Projects for Peace grant to launch KIU, an English education project, in Claudia's home area of coastal Kenya this summer. Named for the Swahili word for "thirst," KIU will serve more than 100 fourth-grade students at her alma mater, Kilimo Public Primary School, in Kenya's Kilifi County.
The 2014 Davis Projects for Peace recipient, Jennifer Roach '14, has continued to scale her non-profit, Summer of Solutions, which runs food justice, urban farming, and leadership development programs across Hartford. Jennifer will return to Wesleyan this summer as the 2015/2016 Civic Engagement Fellow, succeeding the 2014/2015 Fellow Rosy Capron '14.
WORKSHOPS
| | | | | | | | | |
| --- | --- | --- | --- | --- | --- | --- | --- | --- |
| | Fall 2011 | Spring 2012 | Fall 2012 | Spring 2013 | Fall 2013 | Spring 2014 | Fall 2014 | Spring 2015 |
| Number of workshops/events* | 0 | 3 | 12 | 15 | 15 | 18 | 15 | 22 |
| Average rating by attendees (out of 10) | n/a | n/a | n/a | n/a | 8.9 | 8.3 | 9.0 | 9.2 |
*Includes events presented or co-sponsored by PCSE; multi-session events count as 1
Top reviews went to Fundraising Bootcamp: Grantwriting 101 with Sonya Behnke '03; Design Thinking with PCSE Director Makaela Kingsley '98; a Careers for the Common Good alumni panel featuring Gregg Croteau '93, Christian Philemon '97, Katie Nihill '10, and Matt Lesser '10; and "Creating a Better World" Development Conference organized by Chazelle Rhoden '15 and Sitar Terrass-Shah '17.
November's Africa Innovation Summit drew nearly 50 people to discuss entrepreneurship and social impact across the continent, and September's WesHack bootcamp and hackathon drew almost 100 people for the second consecutive year.
Event feedback included "I loved this event! The games were great, and this workshop helped me brainstorm and solve problems from a new perspective"; "Good mix between learning and applying"; "This is hugely helpful because it has real-world implications"; and "This was wonderful! I'm so inspired!! Thank you!"
PCSE COMMUNITY
The Patricelli Center collaborated with four academic courses in 2014/2015: Choice–A Case Study in Education and Entrepreneurship, Money and Social Change, Entrepreneurship Studies 101, and Innovation Through Design Thinking.
More than 50 constituents have 24/7 ID-card access to the PCSE Board Room. This space is a hub of social innovation on campus, used for idea and venture incubation, service-learning course TA sessions, peer advising, and more.
For the second year in a row, President Roth spoke at the Social Good Summit hosted by 92Y and Mashable. His MOOC, "How to Change the World," continues to run on Coursera.
The Patricelli Center for Social Entrepreneurship continues to rely on these key partnerships:

The PCSE, Center for Community Partnerships(CCP), and Allbritton Center for the Study of Public Life (ACSPL), collaborate as a hub of civic engagement theory, research, experience, and practice. We are all housed together in the Allbritton Center in the heart of campus (formerly Davenport Campus Center).
The Career Center's job and internship databases, resume service, and workshops complement PCSE programs.
The Wesleyan Entrepreneurship Society (WES2), Kai Entrepreneurship Wesleyan, Center for Prison Education, MINDS Foundation, SHOFCO, Long Lane Farm, and other impact-driven and entrepreneurial groups on campus offer experiential learning opportunities for students.
The PCSE Advisory Board, Peer Advisors, and alumni network provide invaluable advice and support for the Center. Special thanks go out to the 100 alumni, parents, students, faculty, staff, and friends who served as presenters, advisory board members, grant judges, and peer advisors in 2014/2015.
1,400 members of Wesleyan Alumni in Philanthropy and Public Service (WAPPS) promote service and social impact among the alumni community, and they co-host events with the Patricelli Center. Digital Wesleyan engages students and alumni interested in tech and startups.
Social entrepreneurship colleagues from other institutions come together through AshokaUto share ideas and resources.
2015/2016 PREVIEW
Next year, the PCSE will collaborate with the CCP to launch a Non-Profit Board Residency Program. Modeled after programs commonly found at business and management schools, we believe this is the first of its kind in the undergraduate space.
We will begin offering .25-credit courses in Social Entrepreneurship through the CSPL.
Lastly, we aim to complete a 5-year fundraising campaign to endow the Patricelli Center, ensuring that it will be a permanent fixture at Wesleyan to support social entrepreneurs for generations to come.
To learn more or find out how you can support the Patricelli Center for Social Entrepreneurship, visit www.wesleyan.edu/patricelli or contact mjkingsley@wesleyan.edu.